Yr R - The Gingerbread Man and Costumes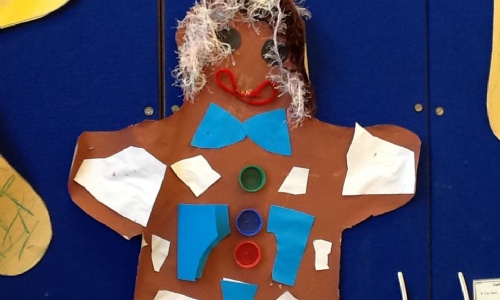 Another great week in Badgers – we have been learning all about the Gingerbread Man which has involved water tray investigations, bridge-making, painting, collage and story-telling. Miss Lever made us some ginger scented playdough and there has been a lovely smell wafting around the classroom!!
Thank you for all your comments in yellow reading record diaries, please can books and records be in book-bags every day for ease of changing (the day may change according to our timetable.) We have been so impressed with the reading of key and tricky words this week and have sent more home today to chop up and learn.
We have received some Nativity costumes already and ask if you could please send in any remaining outfits by Monday 3rd December. A reminder of last week's costume outline from the blog is below:
Please can we ask children to bring in the following items of the same colour: leggings/jogging bottoms/trousers/skirt and a long-sleeved T-shirt in brown, grey, light pink or white. Please place these in a named plastic bag and these will be kept in school until the show. We will provide a mouse head dress made in class to fit each child. Many thanks for your support with these costumes, we are very appreciative. Please do see a member of staff with any questions or issues.
Next week we have three visits to the church planned:
Tuesday 4.12.18 – 9am (Rehearsal)
Thursday 6.12.18 – 9am (Rehearsal)
Friday 7.12.18 – 10.30am (Little Flames)
In order to take part in these events, we need three parent helpers per session to help us prepare and walk to and from the church. If you hold a DBS certificate and are able to help, please see Miss Lever on Monday – we would be so grateful.
Watch this space next week for further details about Nativity arrangements.
Have a lovely weekend,
Best wishes,
Miss Lever and Miss Harper