Reception Commentary Tuesday 8th November PM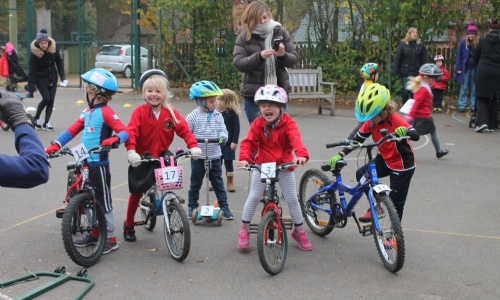 Record crowds flocked to the Badger Class Tour De France 2016
Bikes were set to go, helmets were named, numbers pinned to tops, sponsorship forms in and children excited to go!
Though we were fortunate there was no ice, sub-zero early morning temperatures were testing for this year's cyclists. All were wrapped up warm, taking their preparation for the event seriously.
We had four stages to this year's race and there was a challenging decent as the cyclists looped back towards the start.
Bikes with stabilisers found the going tough with the back wheel at times lifted clear off the road. However there were plenty of supporters and vigilant race crews on hand to sort this out. The scooters held their own, and the balance bikes were challenging for top places. The bigger bikes without stabilisers once again provided tough competition for all-comers (and concern amongst staff about the children's ability to use the breaks effectively!)
This year's race saw record crowds as years 1 and 2 lined the route, and were vocal in their support of the children and their laughter at Mr Pepin.
When timings and handicaps had been taken into consideration and final places were determined after school had finished, we were thrilled to see that everyone had in fact won! Certificates will be issued tomorrow (Wednesday 9th November) and were thoroughly deserved by each and every cyclist.
Well done all - once again you have proved to be wonders, superstars and scholars!