Reception Commentary, Monday 14th November.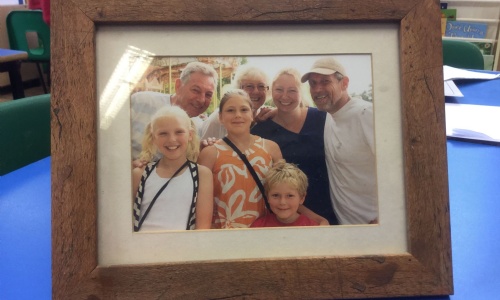 We've found out a little more about what people and places are like across the English Channel in France. Now we want to consider the meaning of the word 'special'.
Special book, special object and special picture for this week.
We would be grateful if you could give some time over this evening or the next few days to look three things for your child to bring into school for 'Show and Tell'.
We would like a special photograph, a special object and a special book. I have shown the children my special photograph (above), which was taken on a family holidy in France. I have also shown them my special object, a clay pot made by my Dad whom I never really knew as he died when I was the same age as the children are now. Finally my special book is called 'Running With the Kenyans', which tells of a families year in Kenya, trying to find the secret to the Kenyan's success. Running is something that has always been very dear to me.
If you were able to write some details about the three objects so that we are able to prompt the children if they forget what they were going to say, that would help us and them!
We will share the objects as they come in, but would rather the children have given thought to what they bring, rather than panic and bring just anything. So when you have the time over the next few days we would be very grateful if you could give this homework task a little thought with your child and send them in with the three objects.
I hope this task promotes some interesting thoughts over the next week or so as we think about what makes something special. Have a good evening