Reception Commentary Tuesday 15th November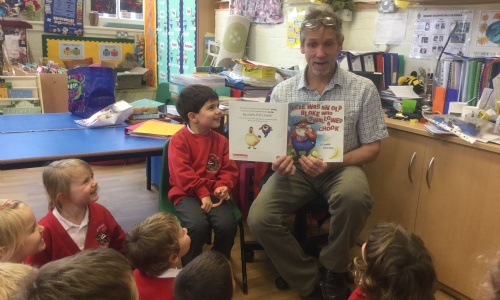 THERE WAS AN OLD BLOKE WHO SWALLOWED A CHOOK.
Communication.
Leo told us his book was special because his Grandpa, who lives in Australia, gave it to him on a visit to England, and it always makes him laugh when he reads it . . . and if you look at the faces of the children in the photo above you will see it didn't disappoint his time either. Leo was an absolute star and had the children hanging on his every word. He got a 100% vote of approval for his book and responded in a very mature manner during his interwiew about his special objets. We enjoyed hearing about Leo's family and were treated to a batman fashion show. Leo came in with a prompt which enabled me to ask relevant questions and he was accurate (on the whole) with his answers. It was a fantastic start to our 'Show and Tell' opportunity and we were very proud of one special little boy. I hope the activity made Leo feel as special as we think he is!
Number
During the morning we had an interesting time counting, sorting and organising some of the sponsorship money from the Tour De France. We had a guess at how much money was in the envelopes (one member of each group who went today brought their sponsorship money in). We then counted out 100 pennies in piles of ten pennies and compared the value of these piles to the larger coins. We had a look at some notes, with old and new £5.00 notes and ordered the coins from smallest coins to largest. Re-inforcement of an awareness of this at home would be good in any way that appeals.
PSE (Special present for a special person).
By way of an introduction to the concept of being and feeling special, because she is very special to us, the children and Mr Pepin got together whilst Mrs Groves was busy and thought of a special present from the class that we could wrap up for her. We had several options, but in the end went for a flower, as we knew Mrs Groves had enjoyed making them with the children. We chose a good one,wrapped it up carefully and wrote out a name label. Later on in the day we found time to give Mrs Groves her present for no other reason than that she was special. She was very excited and felt the package to see if she could guess what it was. She noticed it was very light and squashy. She carefully unwrapped the package and was delighted to receive her flower. Mrs Groves decided to put the flower back in the classroom so everyone could enjoy it. Later in the day, one of our rotations was for the children to pick a friend, think what they would like as a present from the classroom and wrap it up for them. Rhys gave Kitty a flower as well because girls like flowers! We are looking forward to seeing what other people have chosen and receive. This will lead us no doubt into the need to have a post ofice in the classroom, which in turn will be very useful for the Christmas post!
Lots of other things happened today, but I will leave you with these for now. Before I go, if reading tonight, can you encourage your child to read the book for understanding and ask questions as given at the end of the book or similar. Please remember to return ditty books to bookbags each day for the children. We will use them tomorrow in class.
Finally in answer to a question asked after school today, the PTA KS1 Disco is also for Foundation Stage, so the children are very welcome to attend. Parents can drop off or stay and help as they wish. Start time 4.00pm.
I hope all enjoy their evenng and those who havebeen poorly today feel better tomorrow.