Reception Commentary Weekend of 26th - 27th November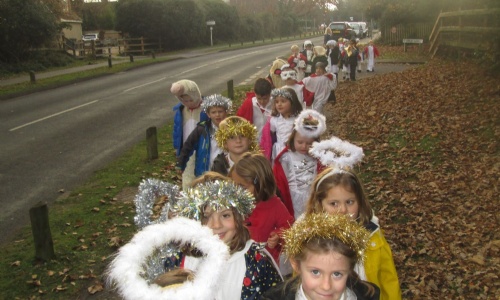 Children will be stars in the Nativity.
Nativity Costumes.
For our Nativity this year I would be grateful if you could create with your child a star costume. Plenty of sparkles, tinsel, sequins and stars would be in order, sewn securely onto a tabard created from an old sheet. (I will send home an idea of how to create the standard costume in bookbags on Monday evening). Obviously the more creative amongst you will have other ideas and we welcome these. Two things to be mindful of, however, are that the children should be able to move freely (dance!) in their costume, and that the decorative additions need to be as securely attached as possible because the costume will need to survive a dress rehearsal and two performances!
Post box opens today.
May I remind you that the class post box opens today and the first Christmas deliveries will be this afternoon. Remember to bring in cards in batches of aout 5 to give your child four goes at being the postman or woman, with name of sender on the back.
Mrs Long in Class this morning.
Mrs Groves and myself are out of school this morning, but I m very pleased to say that Mrs Long is able to come in and work with the class in our absence. We will great and settle the children first thing.
Adventure this week
We would like to go to St Catherine's Hill in Christchurch for our Christmas Craft Adventure. Could anyone able to assist with transport, and supervision out on the hill please contact me by email. I will then circulate information concerning the adventure ahead of Thursday.
Please don't hesitate to contact me if you have any questions. I hope everyone has a great day.