Yr R - Away to Antarctica!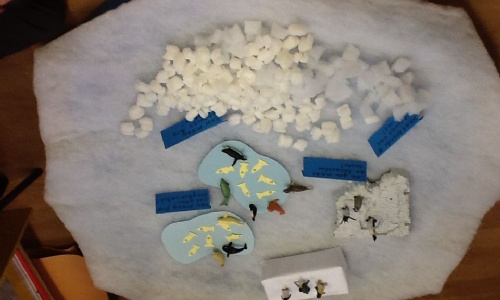 Another great week for Badgers!
We have been learning all about Antarctica/South Pole and the creatures that live there. The week started off with the story 'Lost and Found' by Oliver Jeffers. This has inspired lots of lovely art work, construction, discussion and writing. Ask your child what they have learned about penguins! They should know about how they move, what they eat and some of the different breeds. We have used your lovely cuddly penguins in a 3D display and will return them next week – many thanks for sending them in.
Next week we move onto the North Pole/Arctic region and will be reading stories all about polar bears. If you have any cuddly arctic creatures we could borrow, we would be very grateful. We need polar bears, white foxes or white rabbits for arctic hares!
Today Badgers have bought home the next set of tricky and key words. These are the words that children need to learn to read and spell during Reception. Please add these to your tricky word tins and continue to practise them as flashcards, along with previous words.
Many thanks as always for your continuing support.
Have a lovely weekend,
Miss Lever and Miss Harper