Reception Commentary Weekend of 9 - 11th December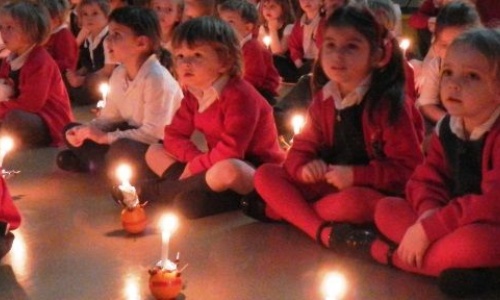 Thanks for bringing costumes in this week. We are very excited about wearing them on Monday for our dress rehearsal.
Can I remind you that we will be walking down to the church in our costumes on Monday afternoon, so would like the children to have something they can put on underneath their costumes to keep warm, without spoiling the effect. White tights / trousers, thermals and tee-shirts would be ideal.
We were very impressed with the children's singing today, with everyone keen to have a go at singing one of our Nativity songs as a solo, and many doing so very well. We have delivered all the cards posted to date from our post box and are in a good position to relax and enjoy our Christmas week ahead. Please read on to see our plans for the week.
Monday
On Monday we have the Dress Rehearsal for our Nativity. The rest of the school will be watching, and we will try to get some good pictures of the children in their costumes first time out.
Tuesday
Our Matinee Nativity service will be on Tuesday at 1.30 in St Saviours Church. The children will at one point be skipping down the aisles, and soon after will return to the front of the Church for their star dance. Ask them which way they are going if you would like to position yourself where you can see them pass by if not sitting at the front. There are no tickets or reservations for the Nativity, but if you or relatives are able to get to the matinee service it will be less hectic! After this performance the children will bring their costumes home and running repairs (if needed) can be undertaken.
Wednesday
Please do send your child in with their Christmas hat if they have made one on Wednesday for our Christmas lunch. We will have our hat parade during the morning. The children may also wear Christmas jumpers if they have them.
In the evening it's back to St Saviours for the final night's Nativity. Please bring your child to the church dressed in their costume and ready for a 6.00pm start. The PTA will be providing refreshments and the evening has a great atmosphere.
Thursday
On Thursday at 11.00am we are going to the village hall for the production of the Gingerbread Man, and in the afternoon we are having our Christingle Service in the school hall. Parents are very welcome to attend the Christingle Service, which will start at 2.00pm.
Friday
I would like to remind you that the PTA are holding a Breakfast with Santa event from 8.00 - 8.45. Please enquire about ticket availability for this at the school office or through the PTA. On the final day of term the children are welcome to bring in their own games from home to play with their friends if they would like to.
We are expecting a very special visitor during worship on Friday, and are looking forward to Carols round the tree on Friday afternoon from 2.00pm. This will be followed by the PTA drinks and raffle and the Christmas Holidays.
If there are any questions on the above arrangements, or indeed anything else, please do not hesitate to contact me. I hope everyone has a good weekend.