Year R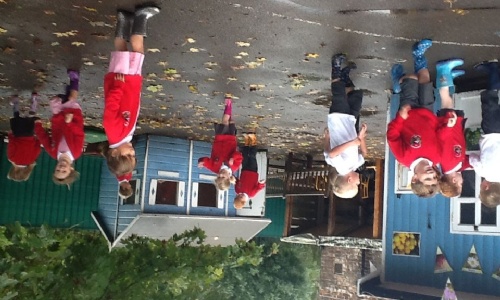 What a wet week we've had! As you can see from the upside down photo (I think the ipad must be waterlogged) we have tried to get outside when we can. We all put our wellies on and had a splashing time in all the puddles. There were a few children who haven't got their own wellies - we do have a few spare pairs but the children are always happier in their own boots.
We were very impressed with how well the children have coped with coming into class by themselves. They have become very organised once in the classroom at putting all their things in the correct places and settling quickly on the carpet for our register. I know there have been a few tears at the door, but we will continue to support you to help the children with this transition. By the end of the week lots of the children were very tired!
We are short of a couple of spare clothes shoe boxes - please bring one in for your child if you haven't already. Lots of children fell down in puddles last week so needed a change of clothes. If we do send home wet clothes, please bring back some replacements for their box. Also a few children have trainers with laces - please have velcro trainers as it makes it so much easier for the children to get changed for PE independently.
Enjoy the weekend
Clare Morris