Year R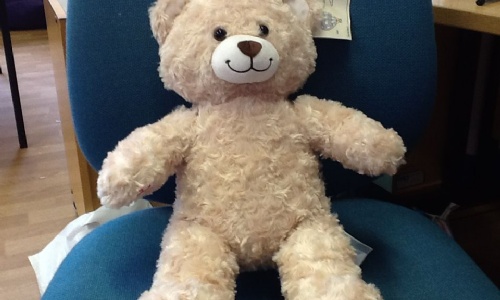 As you can see from the picture, Badger Class had a very successful bear hunt this morning. Please meet Snuggles, our new bear. Thankfully it is a friendly bear and not scary at all. Next week the children will be getting to know it in class and then after half term, Snuggles will hopefully be able to come and visit you all at home.
The children were fantastically behaved today. They walked well, stayed safely with their adult and were on their best behaviour in the Build-a-bear workshop. We were lucky with the weather too. We saw a rainbow during the train journey to Southampton, but the rain stayed away until the last bit of our walk back to school. A huge thank you to our parents helpers who gave up their time to join us on our adventure. Don't worry if you couldn't come this time, Mrs Groves and I are already planning our next adventure.
The children were very tired this afternoon after all the excitement this morning. I hope they all manage to get an early night as I've heard there are birthday parties galore this weekend.
Have a great weekend.
The Year R Team