Year R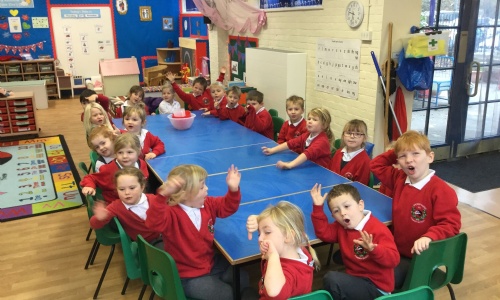 Autumn 2 Week 3 - Friday 22nd November
We have had such a busy week - even by our standards! It seems ages ago, but it was only Monday that we welcomed Grandparents into the classroom. We enjoyed some singing with them as our audience and then made some amazing Autumn leaf wreaths with them. Please pass on our thanks to all grandparents who came, it was lovely to meet them all.
On Wednesday we walked into the village and visited Village Veg to purchase the vegetables we needed for our cooking on Thursday. The children loved making soup - they all had a go at washing, peeling and chopping the vegetables. It was lovely to see so many parents who were able to come and share our soup. Thank you for coming.
Your child should have come home with a letter about their costume for the Nativity play - our class are the party goers so we need some groovy party clothes to wear! The letter explains all.
As always, we are here if you need to ask us about anything.
Have a good weekend,
Clare and Leesa