Year R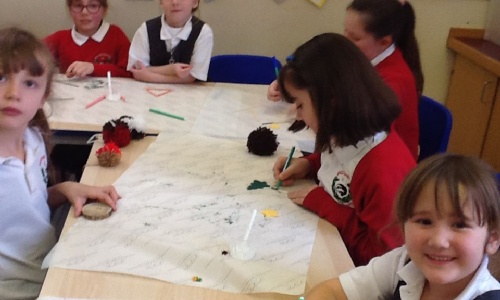 Autumn 2 Week 6 - Friday 13th December
Firstly I want to say a huge well done to all the children. They were such superstars during both nativity performances, even if having an audience did mean they didn't quite manage to dance with the same levels of enthusiasm that they'd shown in rehearsals!
We were all very creative yesterday during our whole school Christmas craft morning. The children worked with children from across the school having a go at three different craft activities which should have come home today with them.
We have been challenging the children all week to step out of their comfort zones and play differently. For children so young they can be very set in their ways so we have encouraged them to play with different friends in the class, particularly trying to mix the girls and boys more, and to play with toys that they already associate with one gender.
Today Mrs Groves and I have been checking keywords. You might find that some words you thought your child had learnt are back in the paper clip as when we reassessed all words some were not known securely. Please keep practising all the words to ensure the children continue to read them all as sight vocabulary.
By today lots of the children were obviously exhausted and full of coughs and colds. I hope you're all able to have a relaxing weekend.
Clare