Year R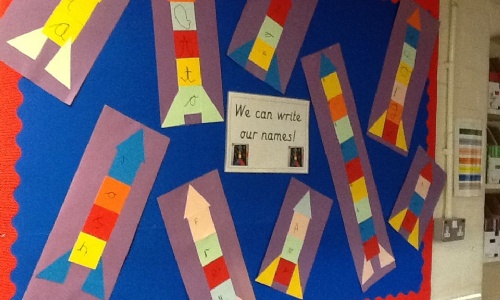 Hello Everyone
Another busy week in Badger Class! Some of the children enjoyed an afternoon of football fun on Wednesday. Despite the rain we all had great fun. The children who didn't have a turn will get a go in a few weeks time.
We have continued to practise writing our names - this time on rockets! They look fantastic on our display. We have been sorting shapes all week too.
It was lovely to see so many of you last night. I hope you all found it useful. If you do think of any questions, just pop me an email. Every child came home with an envelope filled with useful bits to support your understanding and help your child at home.
We hope to start giving out reading books next week. We also want to start key words. Please can you all send in a small named pot to keep them in. Well done to those who managed to send one in today!
We also gave you a medical form from the School Nurse Team about the Year R health check. Please return to school as soon as possible.
Have a lovely weekend,
The Year R Team