Year R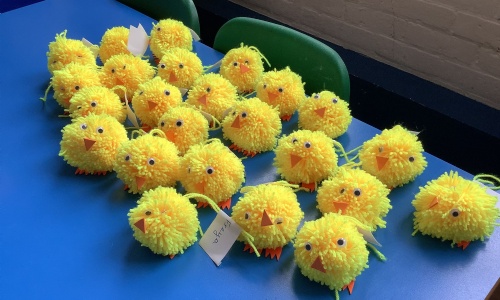 Friday Blog - Thursday 1st April
Happy Easter Everyone! Your children have made it through to the end of their second term at school - and what a term it has been. I am so proud of them and all they have achieved. They have done so well settling back into school and we have had lots of fun over the last few weeks. We are certainly looking forward to more fun in the summer term.
This week has been busy as we've tried to squeeze so much into 4 days. The children are all very pleased with their Easter chicks that we made and were all looking forward to eating their Easter nests. They were very excited by the visit of the Easter bunny during worship this morning, too.
It was wonderful to see so many of you this week, even if it was via zoom. I hope you are all pleased with the progress the children have made. Huge thanks to you all for your hard work at home too. A strong partnership between parents and school is such a support to your children's education.
One quick reminder - please make sure your child's jumper or cardigan is named. In the warm weather, when faced at the end of the day with a jumper dumper filled with sweatshirts, it is so much easier to return them to the children if they are named. If anyone finds a sweatshirt or cardigan at home that is not theirs, please pop it back to school after the holidays.
I hope you all have a fantastic Easter break,
The Year R Team