Year R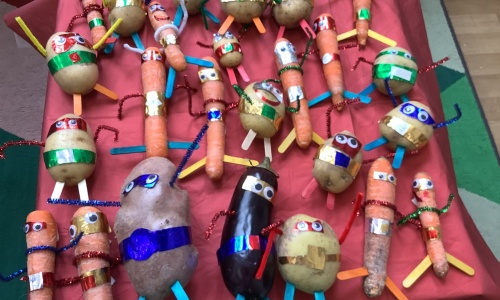 Friday Blog - Friday 30th April
What a super week we have had, enjoying more stories about Supertato, making our own Superveggies (which all looked fantastic!) and today thinking about Supertato's enemy - Evil Pea! The children have painted some fabulous portraits of Evil Pea and written their own 'Wanted' posters.
Bear has started visiting children for a second visit! As before we will ask for photos of whatever your child does with Bear, but this time we would love to have a sentence written by the children to add to our book. When Bear comes to visit you will get a letter with instructions. Bear's visits might have to be a bit shorter than before so that we can squeeze in a second visit for every child by the end of term.
This week we also found, in a dusty box on top of the toilets, 2 old bears from earlier years (you might have had a visit from them if your child has older siblings). Billy and Daisy have had lots of fun being dressed up and played with again!
Our cricket session with Coach Ryan was great fun, particularly as this week the children all had a go at batting. They all showed high levels of enthusiasm and perseverance, which was great to see. We also had our second whole school worship today and Badger Class were able to impress Mr Wilcox with their singing and actions.
Thank you to all those parents who sent in sun hats this week. It's just a shame we didn't see as much of the sun as we would have liked and the weather seemed to get colder as the week went on!
I hope everyone enjoys the bank holiday weekend,
The Year R Team