Year R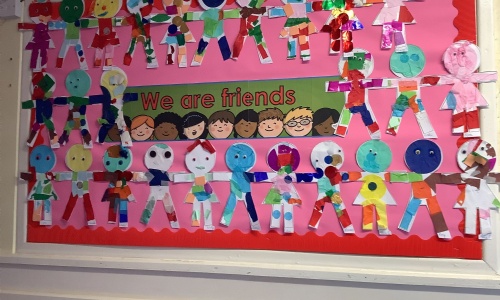 Friday Blog - Friday 8th October
Good evening everyone,
I know I say it every week, but we really have had another fantastic week. Your children are becoming expert pupils! We are so impressed - they are coming into school brilliantly in the morning! They organise their snacks and water bottles, bags go into lockers and they all sit on the carpet ready for us to start the day. We still have a few wobbles during the day (individually and collectively!), but they are quickly dealt with and we get back on with what we are doing.
The children are very proud of their collages that they made of themselves this week (see above!) They all spotted where they were displayed on the wall after Miss Welton had put them all up this afternoon.
We have been thinking about our names again this week, recognising our name, putting the letters in the correct order and trying to write it. The children are all trying their best! When they first start writing with our cursive style, it can be quite tricky.
Please can I remind you that the children must have a coat in school every day. The week has ended dry, but I had children with no coats during the rain earlier this week. We go out whatever the weather.
Well done for navigating the online booking for parents' evening. I look forward to seeing you all then for a chat about your children.
Have a wonderful weekend,
The Year R Team