Reception Commentary Thursday 9th March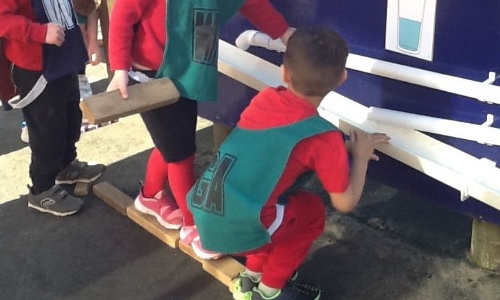 I imagine the children will be tired this evening.
Having changed early for our run, we set up our number stations, and after the register we enjoyed our continuous relay with year 1.
Energised and ready to go we had a reading session before play and used our number stations to investigate the numbers generated by meal choices.
The children have really enjoyed our rotations this week, and we had some superb doodles by Callan and Gwen.
This afternoon we held our river challenge during outide adventure. The children enjoyed working in groups to get the whole team across an imaginary river without putting a foot in the water. It was good to see the children realising what did and didn't work and to all take a role of some sort in the activity. The picture at the top of this article shows some of the children half way round the course.
Finally well done to those children who stayed for multi-sports. We had some fun throwing, catching and hitting in tennis, and played some attention games.
Tomorrow we have a ne member of the class coming to have a day's trial at Brockenhurst. I know the children will make her feel very welcome and hope that everyone has a great day. I will be out of class in the afternoon, and there will be a supply in class for that time.