Year R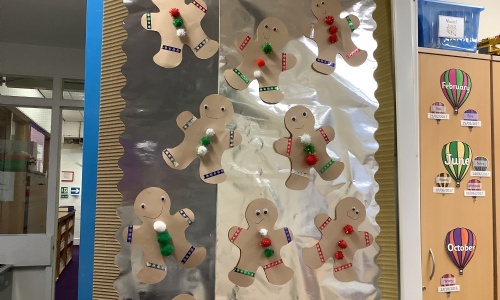 Friday Blog - Friday 3rd December
We have had another busy week in Badger Class and everything is starting to look a bit Christmassy. We all made a gingerbread man to go on the Year R Christmas door. Some of the children enjoyed a live worship, via Zoom, where they got to see all the classes' doors, from Preschool right up to Year 6! We all had a different favourite, except Oli, who said he loved all of them!
Our highlight of Forest school was definitely popcorn on the fire! The children also enjoyed drilling through wood to make necklaces.
I wanted to say a big thank you as the children, and you, have been fantastic at bringing in reading books and keywords every day. The children are fantastically organised in the morning, getting out snacks, water bottles, keyword pots and reading wallets! Well done Badger Class.
We have been lucky to have Mrs Spano with us for the last couple of weeks, the children have loved having her with us. Mrs Helen Shilton will be starting with us next week. Holly's bump is even bigger and I will let you know once baby arrives!
I know that some of the children were coming back for the disco, so I might see them there for a boogie!
Have a great weekend,
Clare