Year R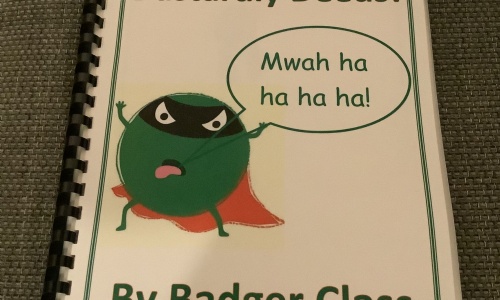 Friday Blog - Friday 18th March
Hello Everyone,
What a gorgeous way to end the week - the children have loved being outside in the spring sunshine. It has definitely made us all feel a bit brighter after a difficult couple of weeks. As well as COVID there have also been other nasty bugs around. Lots of the children were feeling tried by this afternoon and we have gone through a lot of tissues in the last few days! Hopefully a sunny weekend and time to relax with family will do us all the world of good!

Thank you for all the veggies that you sent in to turn into Superveg! The children all loved the activity and were very proud of their finished superhero. We were also all pleased with the book we have made about Evil Pea!

We finished the week by making some gorgeous spring flowers from air dry modelling clay. The children all loved its texture and did a great job of using it to make their brightly coloured flowers.
A few Forest School Notices:
Not all the children had their waterproofs in school this week. Even though the weather is improving, they still really need waterproof trousers - the favourite activity is often the mud kitchen! Please make sure they have them in school next week. We do have a few spare pairs, but we didn't have enough this week.
Can you check for any gloves or hats that have come home by mistake? We are missing a few of our spare pairs.
I am going to put up a list of consumables that we need replacing from time to time. If you are able to buy us something from time to time, we would be very grateful. The first things on the list will be lard and birdseed, for bird feeders and cotton wool, which the children use when trying to light a fire - another favourite! Dawn Dormouse would also like any old CDs or DVDs which we want to use to scare off the birds from our newly planted fruit trees! Many thanks for all your support.
Have a great weekend and enjoy the sunshine. I might see some of you at the quiz night tonight.
The Year R Team