Reception Commentary Wednesday 22nd March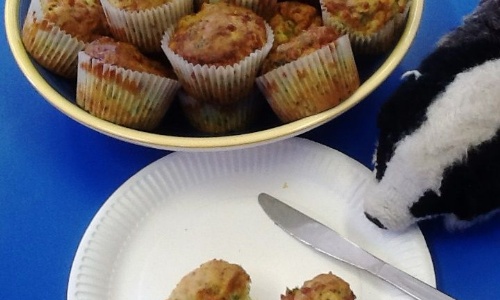 We had a lot of fun with today's Badger Class cooking extrvaganza and having looked on google images for a picture, we decided we could do a better job ourselves with the help of Mr Badger (see picture at the top of this article).
Yesterday Erin, Sophie and Henry helped us to harvest some of the winter flowering broccoli from our reception garden for today's recipe Cheese and Broccoli muffins.
We all had a lot of fun recalling what equipment we needed to use for different measures. We were counting eggs in 1s, weighing flour in grams and measuring milk in fluid ounces.
An interesting conversation centred round the difference between plain and self-raising flour, and we also found out purely coincidentally that the flour was made of a powder not dissimilar, we think, to that used by the BFG for his blow-pipe to send out dreams to sleeping children.
Numbers
Alongside this frivolity, we also continued to be very excited about numbers and how we can use them in our everyday lives. This morning's focus on doubling and halving helped us no end with creating two bowls of mixture for our muffins. It also gave us the knowledge to count the cake cases using arrays, to double and halve numbers! If you have invested in a set of numicon, you should ask your child to double all the single digit numbers using the 10s block to help give the answer. Though there were children in the class who knew doubling facts to double 9, the majority of the class was able to respond immediately using the numicon as a prompt.
Phonics First Thing.
The children's writing also continues to move on a pace, thank you once again for your invaluable support to this area of your child's learning. Looking ahead, the plan is to continue with support for the final couple of weeks of term and the first week back next term. After that time we would like the children to come in and attempt their journals independently, so do try to maximise the time left to empower your child to read and write independently. Push for them to be interactive in using strategies taught and don't be too quick to rescue them when they hesitate!
The remainder of the week.
Tomorrow we have the West End Theatre Group in school and we will be studying 'The Tempest' by William Shakespeare. During the day the children will complete a rotation of creative and expressive artistic activities in conjunction with year 1. To round off the afternoon we will participate in a whole school mini-production, so it should be a lot of fun and inspire the children's more imaginative sides.
On Friday we welcome Mums, Grans and Great Grandmas are welcome to join us for the morning. Doors open at 9 o'clock, and you are welcome to come into school from that time. We plan to be outside practicing our hockey and would welcome visiting teams of mums. There will be an assembly at 10.00am followed by coffee to which all are cordially invited.
I hope you are able to make the most of the early spring sunshine this evening (and can hardly believe we were playing in the rather large rain puddle in the bottom playground during 'wet Play' (!?!) this morning) and that the children find some inspiration in the work planned for the remainder of the school week.