Reception Commentary Saturday 27th May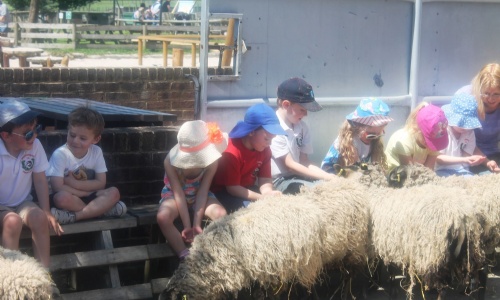 What a fantastic journey we had.
It was a pleasure and a privilege to accompany the children to the farm on Thursday. The weather coudn't have been better, and the children were all well prepared for the day, all equipped with suntan lotion and many looking very cool in their shades.
It was good to see the looks of excitement on the faces of the children when what they had researched online during their preparations became a reality. The outside 'bouncy castle cow', and the shear size of 'straw mountain' were particularly impressive.
Our timetable was such that the children could appreciate the passing of time, with a big central clock for reference in the central farm yard outside the milking barn.
Some children overcame uncertainty about meeting the animals, and all got stuck into the day. Perhaps the best part of all, was that the children worked together in the groups they had chosen, making good use of the free time slots during the day to choose exactly what they wanted to do. It really was over to them.
Our next journey will be on Friday 9th June Summer2, week1), when we will be going to Moors Valley for our adventure maths day. If you are able to help out with transport and supervision on this occasion, or indeed could accompany us on the transport Journey, or Puttles Bridge Outback Adventure (Thursday 13th July), please could you let me know by email. I cannot promise to take everyone as there will be a point where too many adults detract from the focus of the days for the children, but I will do my best to accomodate those who are able and keen to help.
Thanks as always to the parents whose help ensured the safety and enjoyment of our first picnic journey to the farm. I hope everyone has a great half term, and look forward to seeing you on our return to school on Monday.