Reception Commentary Tuesday 6th June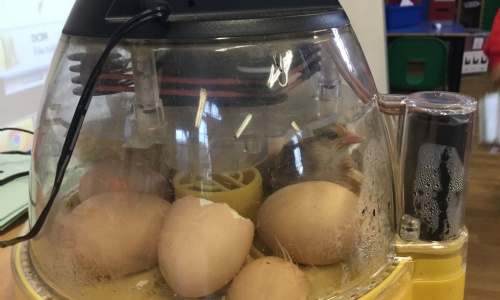 There was great excitement in the Badger Class this morning as number work had to be stopped so that the children could watch one of our eggs hatching. Later on in the morning a second chick emerged, and both are trying to help a third chick out!
They have remained warm and snuggly in the incubator all day and so when the children come into school tomorrow they should be dry and fluffy.
The children have been asked to think of two names for the chicks and to write them down on a piece of paper for their homework this evening. If they can bring the names in we will name our chicks as they move into their new home under the heat lamp.
Thanks to those parents who have offered to help out on our second picnic journey on Friday. We will publish final arrangements in due course, but are looking forward to spending the day with Mrs Rosser, Ms Lamb, Mrs Rea, Mrs Whetman, Mrs Markham and Mrs Bruton. We have plenty of help, so if anyone's circumstnces have changed and it would help to have the day back, do let me know. Similarly if I have missed anyone out, please let me know.
I hope everyone has a good evening.