Friends reunited and new friends made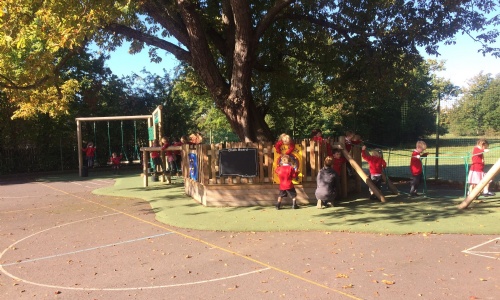 We made the most of the sunshine today and spent alot of our time outdoors. Of course there were the inevitable tricky goodbyes for some but thank you parents for your patience and persistence. I know it can be hard but it was great to see that in just a few minutes all tears had gone and all children had settled into various activities around the room and the children from both groups mixed really well. Mrs Lever also came in to join us for the morning so we had all of Badger class together for the first time!
To make things easier on Monday Mrs Lever is planning on putting the drinks bottle and packed lunch trolley outside and also the snacks basket. So if you want to get bottles and snacks out of the way as soon as you arrive then when the door is opened the children can come straight in and on to their lockers without congestion. We hope this helps. There are still some water bottles and snack boxes without names and it does make it tricky to return things to their rightful owners. We had a problem this afternoon with shoes not having names in them. Please name EVERYTHING! It was great that so many of you had brought in wellies. Thank you.
One thing we noticed in PE was that quite a few children didn't have trainers. The children do need to have trainers with good grips for running in the playground.
This week the children have become more independent selecting and using resources around the setting. They are making new friends and getting used to taking turns and working with different people. They are beginning to recognise the different adults that help us around the school and are getting more confident at asking for help when they need it. They have had fun making walls for Humpty Dumpty, baking jam tarts like the Queen of Hearts, drawing in their new books, using the laptops, changing for PE and doing PE, going to assembly, learning new sounds (m, s, a, d), playing hide and seek, finding things around the field, making music, playing games, counting conkers, helping to tidy, putting stickers on sticker charts, listening to stories and so much more - and all that in only 3 days! Don't be surprised if they are feeling tired this weekend. Sleep well ready for their first full week in school next week where we will be thinking about Harvest in readiness for next Friday's harvest festival.
Remember that all Grandparents are welcome to come in next Friday first thing to help us celebrate Grandparents Day and join us for Harvest Festival.