The end of our first full week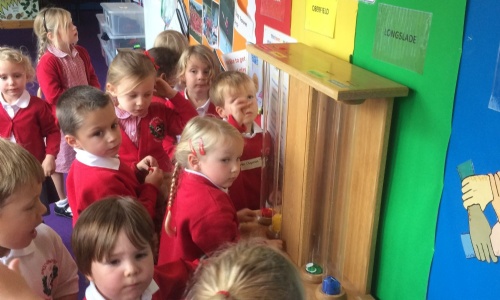 Thank you to all those Grandparents who were able to come in today. It was lovely to see you although things were a little rushed in getting ourselves ready to go to church. Thank you also for all your Harvest contributions. These were taken to church and the children took them up during the service.
The grandparents were treated to a retelling of the Little Red Hen and an enthuasistic rendition of our Harvest songs - Big red combine harvester, Dingle dangle scarecrow. See if your child wants to perform these to you at home! Unlike the animals in the Little Red Hen the Badgers were more than keen to help make bread with Mrs Groves and Mrs Lever earlier this week. I also had plenty of help making our class scarecrow yesterday. Maybe you have seen him looking after our gardens in YR playground. This afternoon we made little harvest mice too which can come home once they have hardened.
I expect your child is pretty tired after their first full week but they have done really well and along with the housepoint Mr. Littlewood awarded each child for good singing and behaviour in the Harvest Festival I also gave them all a housepoint for getting on so well this week. The photo shows them putting these in our house point collecting tubes - which House will get the most?!
We will be going to church again on the 20th October to a little Flames service but that will be just for Year Rs and pre-school children and will be part of our school day. Hopefully you found the invite in your child's book bag today along with four other flyers we were asked to give out.
Yesterday we met Mrs Julius who is training to be a TA and will be with us every Thursday and Friday morning. She was very cheerful and soon got to know the children, helping them each to choose a library book and check it out on their school library ticket. Please bring these books in next Thursday so they can be changed for a new book. If any of you are able to help with jobs such as changing library books please could you let us know and make sure you have completed DBS forms for the office. Thank you