Badgers, Badgers, Badgers - Here we are!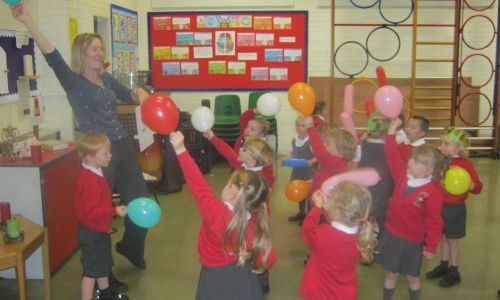 I can't belive this has been only the second full week for the Badgers, they seem so settled and confident already. Watching the children around the school both within the classroom, outside or in the hall for lunch mixing with others, knowing where to go, remembering new names and faces I am very impressed with how quickly they are taking everything in their stride.
Here we are in the hall practising our letters in the air having just learnt bbbb - balloon! The children have learnt quite a few of our speed sounds now and once we have introduced them all we will send a copy home for you to look through with your child.
This week we changed from the Nursery rhyme focus to Percy the Park keeper with the Nick Butterworth story - "After the Storm". The children have been out looking for Autumn treasures, colour mixing for Autumn leaves, creating autumn crowns and finding and making homes for the animals like in the story. The children made some really good worm homes on Friday (and learnt wwww -worm!). In our role-play area we now have an animal rescue hospital and the children have been taking good care of the poorly forest creatures they have found there. Next week we hope to find out more about hedgehogs and badgers in particular and help Mr Harvey (our school equivalent of Percy the Park Keeper) by taking good care of our outdoor area. We have had to think a lot this week about our school Golden Rule - "we look after property", and have needed lots of practice looking after things and tidying up the things we use. You could help us before and after school by ensuring that younger brothers and sisters don't get out the toys and bikes that have been tidied away.
We have been really impressed when getting ready for PE that so many children are able to dress and undress themselves all by themselves, it certainly speeds things up giving us more PE time. Tricky things are shoes, tights, buttons, pinafore dresses for the girls and getting jumpers off for the boys. Worth practising at home still. Also worth a practice is opening snack pots and packets and bananas! Thanks for topping up shoe boxes as and when needed. We just need to remind you that when your child goes to the toilet we are not able to help them wipe themselves even if they ask. If you think this may be an issue for your child please help them get used to doing it themselves and if you really have an issue you can discuss it with us and we would have to draw up an intimate care plan.
Nearly everybody had wellies this week which really helped when going out on the field. Thank you. Everybody had a PE kit for PE and everybody is remembering water bottles every day - excellent! Keep up the good work! One new thing to remember is to return library books every Thursday. Mrs Jacobs has kindly offered to change Library books each Thursday morning.
On Monday and Tuesday of this week we have open mornings for the prospective parents of next year if you know anyone who might have children younger than yours invite them along. On Thursday afternoon we hope to have representives from the New Forest Badger Group visiting YR to tell us more about our namesake. On Friday we will be taking part in the whole school "Mufti Mathletics day". The children are expected to bring in £2 each as mentionned in the newsletter which will go towards a maths programme you can use at home with your child and they can wear their own clothes. We do hope to go outside in the playground for our sporting efforts so please consider this when deciding what to wear.
On Thursday of the following week (19th October) it is the Hindu festival of Divali and along with Y1 and Y2 we hope to find out about and try out some of the different things Hindus do to celebrate this festival of Light. If there is anyone who is able to come in and help with these fun activities at any time during that day and they have their DBS check through then we would really appreciate your help, just let us know what times you can do.
Last but not least Parents Evenings are coming up soon. As mentionned at your Home visits these are an opportunity for you to catch up with your child's keyworker to find out how they have settled in and for you to let us know how you think they are coping and what we can do next to support them. So please remember to sign up with myself - Mrs Stack, if I came to visit you, or Mrs Lever if she did your Home visit. We hope to offer you a choice of evenings so everyone is able to come and these times should be confirmed next week.