Mathletics and more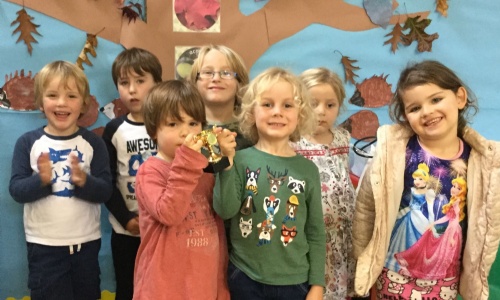 Congratulations to the Longslade team who were the Year R winners in this year's Maths Olympics! All the children really enjoyed doing our fun sports and counting up the scores. The money you gave today goes towards our School subscription to Mathletics which hopefully you will soon be able to access yourselves. Every child will have their own individual login and password which they can use anywhere you have the internet - with your support.
Yesterday a representative from Mathletics came to see us and showed the website and how it works to the children. It is suitable for all ages from YR upwards and is designed to engage the children in practising their maths skills. If you are able to attend our Phonics and Maths information evening on Monday 6th November (7:30pm) we will give more information on how to use the website then and hopefully by then you will have all the login information you need. It looks fun!
Yesterday we also had a visit from Martin and Julia Noble from the New Forest Badger Group who came to tell us all about Badgers and the work they do in looking after orphaned badgers from the New Forest. We found out lots of interesting things including the fact that badgers can eat most foods -including sausgages! Though obviously out in the wild they are more likely to eat worms.
The children have continued to help the never ending stream of poorly woodland animals (soft toys) that have shown up in our animal hospital this week. They also made some very robust looking Hedgehog houses with Mrs Lever earlier in the week.
I hope to add some of the photos of our week to another Photo album so keep an eye out for that.
In the meantime I hope you have had the chance to sign up to come and see us after half term for a Parent teacher meeting. We would like to see all of you so please let us know if for any reason you are finding it difficult to make an appointment.