Being Bright and a Festival of Light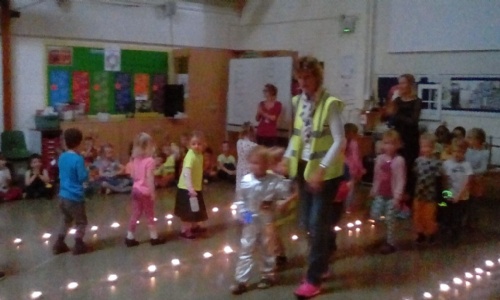 We had an exciting and bright day in school today. We joined forces with Y1 and Y2 to find out more about the different ways in which Hindus might be celebrating the festival of Diwali which starts today.
The children made clay diva lamps which we lit altogether in the hall. (Diwali means literally row of lights). We also made Rangoli patterns to decorate our classrooms, and decorated hands in the style of Mehndi hand patterns. They had the chance to program a firework for a firework display on the Interactive whiteboard with the help of Mrs Jacobs. The children listened really well to the story of Rama and Sita and all joined in with some Indian dancing this afternoon. We watched a cbeebies "Let's celebrate" programme all about how a girl in Leicester celebrates Diwali and if you want to know more about this festival it would be worth watching this again with your child on BBC i-player.
The children also got the chance to show off their bright clothing and all received a sticker and their very own hi–viz jacket as a present from the PTA. It would be great if they could all wear them over their coats as we walk down to the church tomorrow for the Little Flames service we have been invited to. Please do remember to "be bright and be seen" when out and about we want all children to stay safe.
As the days are getting shorter the children have been thinking about Night and Day and in particular the kinds of animals that come out at night. They were very good at giving me examples of Nocturnal animals today. Maybe one evening in half term you could go on a walk together in the dark (wearing the bright clothes!) and see what you can see. Also take the chance to talk about how it feels to be in the Dark – is it scary, exciting, spooky, magical? You might also like to try some of our popular "Funky Fingers" activities at home - please see the attached.
Hopefully you have all managed to sign up for your parents evenings by now. We look forward to seeing you after half term.