YR fireworks, glitter and pumpkin soup . . .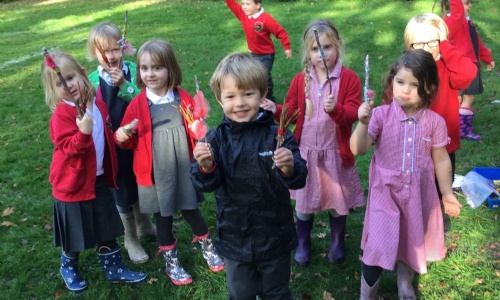 It's good to see all the children back again after our half term break. It's been a busy week startig with pumpkins and ending with rockets!
Many of our activities were story book based this week tying in with topical themes. Mrs Lever kicked off with Pumpkin soup using the book of the same name. I'm told all the children had a try of it after helping to make it. They also made some interesting soups in the mud kitchen with some rather more unusual ingredients.
On Wednesday our story was "Room on the Broom" clearly a favourite with many of the children already and this was followed up in our forest school activities on Thursday with a witch inspired treasure hunt, mini broomsticks and wand making. There was more opportunity to sprinkle the glitter in our mixed media firework paintings which look great - full of colour and sparkle.
Then on Thursday it was time for a book called "Countdown" - giving us the opportunity to practice our skills of counting backwards and inspiring us with thoughts of trips to the moon and rockets. This led on to a further story to spark the children's imaginations - "Whatever next!" by Jill Murphy about a bear that takes a trip to the Moon in a cardboard box. So today in role play the children were using the boxes to make their own rockets and may have brought home their shape rocket pictures - can they name all the shapes they used?!
Counting backwards came in useful in our dance lessons too where the children had great ideas for moving like different fireworks and were able to share useful advice about staying safe on Bonfire night.
It has been good to catch up with so many of you already this week in our parent teacher meetings. Mrs Lever has a few more on Monday followed by our Phonics and Maths information evening which we hope you will be able to attend. We look forward to seeing you in the YR classroom at 7:30pm but if for whatever reason you can't attend we'll put any relevant information on this blog.