Our Super Star YRs!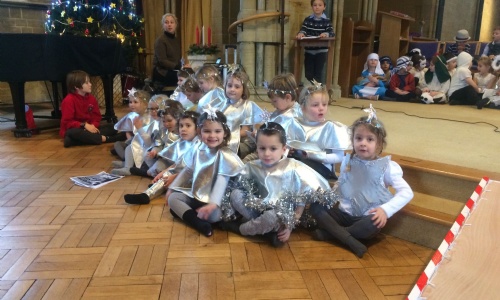 We were so proud of all the children's efforts in the Nativity performances this week, they really gave it their all. For some it was being brave enough to stand in front of so many people and for others the opportunity to sing their hearts out and show off their dance moves. They did so well to remember so many songs and actions and do it all with such enthusiasm - and smiles! We have received many compliments about their performance. We would love to see a video of it if any one has one they could share with us. It's difficult to get photos when you're in the midst of it all.
Thank you once again for all your support with providing costumes and helping get the children to and from church. We couldn't do it without your help. One of the parents asked if she could donate her star costume as she was unlikely to need it again. If any of you wish to do this you are welcome to give us the costumes to store for those who might need them next year - and in the unlikely event that they are a star again you can always have it back.
Today your child should have brought home their Christmas card that they've made. Also in their book bag there should have been a plastic wallet with character cards and name cards to help them with their reading. Please read the yellow note that accompanied them. If you have any further questions about the cards or about their reading please do ask but in the meantime we hope you enjoy trying some of the activities together.
The children have managed to complete their marble jar and will be rewarded with a treat in school but after all your efforts already this term we will be doing something that doesn't require anything bringing in from home, there's enough to think about at this time of year.
We had a fun PE session today in role as Father Christmas getting fit for Christmas. We had all the apparatus out in the hall and the children practised climbing up and down "chimneys", balancing on "rooftops", swinging from "one house to another" and landing softly so as not to wake up sleeping children. Tomorrow we are looking forward to Yoga with Lola's Mum and on Monday Mr Wilcox has organised a Tri-golf event for all the children in the school to participate in during the day. PE kits will come home for the holidays after that.
Tomorrow is Christmas jumper day and there is a PTA organised disco after school. You should have received an additional email about this today with all the details.