Happy Christmas from us all!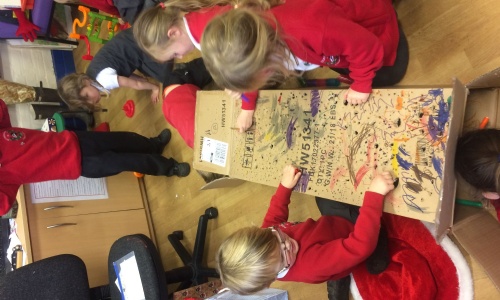 Happy Christmas to you all! What a long but successful first term it has been for our Year R Badgers.
The children enjoyed not just one but three marble jar treats - making and decorating (and of course eating) their own gingerbread, movie and hot chocolate and then Christmas games to finish off the term.
On Tuesday they were all involved in the school Tri-Golf house championship alongside KS1 with Oberfield winning for the Infants. More excitement on Wednesday when Father Christmas came to visit in assembly. It was tricky persuading some of the children that the presents he gave were for all of us in school and that he was saving their individual presents and treats for Christmas Eve. And in the end it seemed the box the present came in was more exciting than the present itself!
Thank you for the decorations you sent in, the children really enjoyed using them to decorate our outside area. Thank you also for all the cards and gifts you sent in. We hope you all enjoy a Happy and healthy Christmas holiday and look forward to seeing everyone again fully refreshed and raring to learn in January!