Happy New Year YR!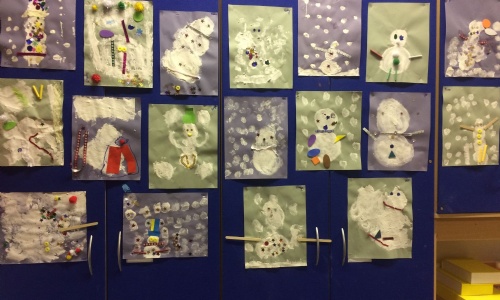 We hope you all enjoyed the Christmas break, the children have been telling us about the exciting things they have done and presents they have received. Thank you once again for all our gifts and cards, much appreciated by us all. Our new term has got off to a snowy start in YR in the hopeful anticipation that we might get real snow. Our classroom has a wintry theme and children have already been making their own snow and ice as well as playing with snowballs and creating snowmen. If any of you have any photographs of your children (or even you as children) playing in the snow that you could send in for us to copy for display we would be grateful.
Mrs Groves has been checking with all children which sounds and words they can now recognise on sight and we have been impressed with how many they have remembered. We are sending a copy of this home with your child and you will see that Mrs. Groves has highlighted the words and sounds that they are not yet sure of. N next to a sound means that they gave the letter name rather than the sound. Thank you for your support with this. If you haven't had a chance to play with the picture and word cards that came home before Christmas then please do take a look at them to get the children more familiar with the names of the characters that will be cropping up in their reading books. Use your speed sound books as well to recap on the different sounds of the alphabet.
Those children who are confident recognising the character names have now brought home a set of red key words. You can leave these as one card and read the words in and out of order or if you prefer you can cut the words into individual cards. These should be kept in the key word wallet with the picture cards and this should be in your child's book bag. In your child's book bag there should also be a yellow reading record for you to comment in to let us know when your child has read with you. Also there will be a reading book. I sorted out as many as I could on Friday afternoon (and apologies for putting the wrong date in most of them!) but if you didn't get yours then I have it ready to take home on Monday. And those of you who were away we will get you sorted as soon as we can.
The books do vary - some have no words, some only have a few and some have activities to do. Whichever book your child has, try and get an uninterrupted 5-10 mins where you can share the book together. Take time to look at the cover and the illustrations and ask questions encouraging your child to make predictions about what might come up in the text. Then check the words encouraging your child to sound out the letters they know and point out any of their key words eg. 'the', 'Kipper', that appear in the text. Some of the books have smaller text that is expected to be read by the grown up. We would expect you to re-read each book on another day to build your child's confidence. Let us know how they get on by writing in the yellow book. If you want any more reading advice or are not sure what to do please ask. We hope to change books weekly.
It would help to have parent (or grandparent) helpers to help us with key words and reading each week. We can explain what needs to be done and it really helps to get these jobs done. So if you are DBS checked and can spare a bit of time each week - or do alternate weeks with someone else, please let one of us know what time suits you and we can get you started.