Happy whatever the weather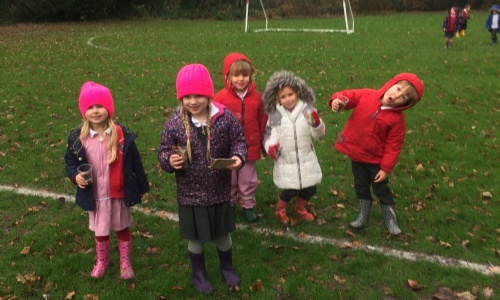 Rain, shine or hail, the Badgers are happy to be outside whatever the weather as they have proved this week with torrential rain and floods, icy temperatures, blue skies and hailstorms to contend with. Apologies for the damp clothing. To be fair when we set out to the field for Forest school yesterday afternoon the sun was shining and indeed 5 minutes after we returned completely soaked from the hailstorm, out came the sun once more.
The only time we weren't so keen to go out was when the fire alarm sounded for a fire drill yesterday in the midst of getting changed for PE. Despite this being their first fire practice and many of them in various states of undress we were really impressed with the children's calm, sensible behaviour which meant we were able to get on and support those that needed help so that we could all get out safely and with clothes on.
Before the hail hit in the afternoon we managed to get fairy doors made, found many signs of winter and went searching for wild animals that may be lurking in the bushes. (I didn't know we had a resident lion!) Lots of the children collected bits to go in their ice decorations which you may have seen hanging from the tree in the YR playground. They were still there this evening so have a look if you go past at the weekend. We'll see how long they last.
This week we have been enjoying the Snowman and the Snow dog and had a great snowball fight when we re-enacted the story in PE yesterday. The children have produced some great art work and created their own wintry sounds with various percussion instruments.
We have been continuing to practise our reading and writing - with a focus on sounds j, v, z and qu this week as well as recapping on d and g. Having read with all the children I am really impressed with their enthusiasm and their developing ability to blend the sounds they see. We are encouraging them to point at the words with their fingers or lollysticks as they read as well as using picture clues. We sound out words using the letter sounds rather than the letter names and try and recognise the tricky key words which can't be sounded out. The practice you do at home with the key words and the reading books really does help. It would also help us if your child keeps their key words in the small plastic wallet they were all given before Christmas. Their reading book can just be tucked inside their yellow reading diary - it doesn't need to go in the key word wallet. It does help us if you make a note in the yellow book when you have read with your child even if it is just a smiley face to let us know the book has been read. If you have any questions about reading with your child please do ask us, we are here to help.
In Maths the children have been practising recognising numbers up to 10 and then to 20 and have had lots of opportunities for counting. They have been playing dice games which are really helpful for practising these skills and also for counting on a number track. If you have any dice games at home see if you can find time to have a play.
Mrs Lever is still keen to get some help with the litter pick on Monday morning. Please help if you can. Somebody mentionned getting special gloves especially over the weekend but I did reassure them the children won't be expected to touch any of the litter.