YR Half way there . . .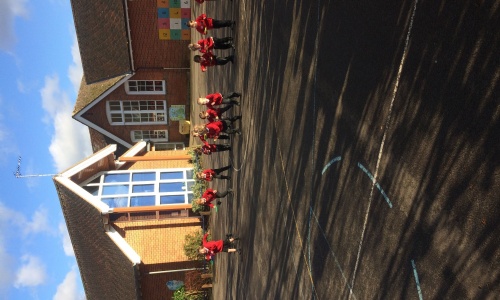 Winter Olympics comes to YR. The children were assigned to different teams this week to compete in their own Winter Olympics activities. Norway, Spain, Denmark, Czech Republic and Great Britain were all represented. Maybe over half term they might get a chance to watch some of the Games with you and be inspired by the sports men and women that they see.
We joined forces with Y1 and Y2 yesterday to take part in inter house team building activities in which the children earned points for demonstrating the Olympic values. Unfortunately freezing rain stopped play a little early but it was good to see all the children getting involved and working together up to that point.
Some children saw the school nurse yesterday to have their sound or vision tested and if your child was one of these they should have had a letter in their book bag from the school nurse. Everyone should have also received an important letter about the forthcoming science trip which Mrs Lever is organising for the whole school. Please read and return the slip.
Today I gave each of the children a new plastic wallet to keep their reading things in inside their book bag. We noticed that quite a few of you were trying to squeeze everything into the small plastic wallet which we gave you for key words. We appreciate trying to take care of the reading books but were worried that key words were going to get lost or mixed up with all the other things. So there is a large plastic wallet to keep your reading books in and within this you can put the smaller wallet containing just the key words. I hope this makes sense.
In your wallet I have given a couple of suggestions of activities you could do over the holidays to support your child's learning if you want to. I have also requested that after half term everyone can bring in a favourite book and a photo of their home that they can talk about if they want to. Our main themes will be homes and story telling - kicking off with "The Three Pigs".
I understand that Tapestry is now open to you all so hopefully you are able to access this. It is great that some of you are already feeding back and adding comments and photos of your own to let us know of your child's experiences and achievements out of school. This really helps build up the bigger picture of your child and where they are at. Thank you.
The children have had a bit of practice of pancake racing - and eating! ahead of next week's Shrove Tuesday. Good luck to them if they decide to enter the village pancake races. They have also been inspired by the thought of Valentines day to talk about those people and things that they love and they have made a special something for somebody special to them. I hope these have survived the journey home in the book bags. Look out for them.
Thank you to the lovely people of the church who welcomed us to the Little Flames service this morning. We learnt about Jesus and the fishermen and enjoyed joining in with the actions and the songs.
Sadly this was our last week with Mrs Julius. She has been working with us every Thursday and Friday since September to help support her training to be a Teaching Assistant. This week she was successful in getting a job as a full time Teaching Assistant in her children's school which is great news and we wish her well. She has been a real help supporting children with their learning and with activities such as Forest School, PE, art and reading and we will really miss her support.
This does mean we are short of help and could do with more volunteers so if you know anyone who may be able to offer an hour a week (or more), with any of these activities, please do let us know. Extra adults make such a difference, especially at this age.
Happy half term to you all.