What a week!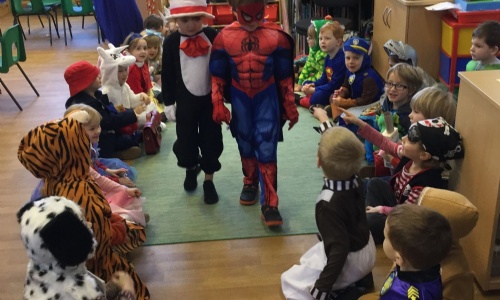 It was lovely to have so many Mums in this morning and give the children the opportunity to share the kinds of things they like to do in school. It was quite emotional for some children and I think I might suggest that we have Mums in towards the end of the day next time to avoid the difficult goodbyes. But any tears were shortlived and despite those anxious moments I think they enjoyed having you with them in school for the morning. They were sharing ideas this afternoon of ways in which they were going to make your Mother's day extra special and I hope their ideas come to fruition and you have a lovely day on Sunday.
What an eventful week it's been. Thank you for all your support and words of encouragement on Tuesday. Thank you also for sorting out such great costumes for the children to wear yesterday on our belated Book Day. They started the day with a "fashion show" where the children were able to admire each other's outfits and they all received many compliments. Our theme for this half term has been all about books and traditional tales and it was good opportunity to read a few more. It would be really good if you could have a talk with your children about the books you enjoyed when you were a child. Maybe they could ask Grandparents which books and stories they had when they were young as well and get a sense of how things change or stay the same over time.
This week we've been focussed on the Gingerbread man and the children have enjoyed acting out the story as well as making the gingerbread man boats to get him across the river. In PE we were practising different ways of travelling and "swimming across the river" with "gingerbread" coits and beanbags balanced on different body parts! I also took the children for a run around the playground which they were all up for but found quite exhausting after a couple of laps. I think we will work on building up our stamina and make this a more regular thing. The speed sounds we have been introduced to are: "ai - snail in the rain" and "oo – look at a book". In Maths the children have been practising their addition skills and playing dice games with 2 dice as well as enjoying the gingerbread activities on the Topmarks website: https://www.topmarks.co.uk/learning-to-count/gingerbread-man-game which you might like to try at home. In my guise of the big (maybe not so bad) Wolf yesterday I couldn't resist the opportunity to practice telling the time using the little clocks – "What's the time Mrs Wolf" . The children were beginning to get the hang of making o'clock times for themselves, remembering that the big hand goes at the top when it's o'clock.
In the weeks before, we were huffing and puffing as Mister Wolf and building various houses for the three pigs both inside and out. Some great collaborative efforts. The children love retelling the story – and knocking down the houses! Today I set them the challenge of designing a house for a character from a story of their choice. They all drew the kind of house they would like to make and I have asked them if they can bring in boxes etc that we can use to make our models next week. So please have a look through your recycling and see what might be useful – nothing that has contained nuts please. Ask them who they are making a house for and what resources they might need but feel free to send in bits for others to use too.
Next Thursday we also have Shakespeare Day - apparently we will be doing Hamlet! On Friday we have a Little Flames service in the morning and Sports Relief in the afternoon. We started practising our special dance routine with Y6 this afternoon.
Milk –Up to now all children have been offered free milk and fruit as their afternoon snack but actually, although the fruit remains free for all children, the milk is only free for under 5s. Once they have their 5th birthday they will have to pay if they still want to receive milk each day in school. Please follow this link to the Cool Milk website and sign up if you want your child to have milk. http://www.coolmilk.com/
Reading books - Thank you very much for making use of the plastic wallets to keep the books safe and dry. Could we just ask that when you have heard your child read at home that you make a note that you've done so in the yellow reading log. Even if it's just a smiley face or "read all" to let us know that they are ready to change on to a new book. Otherwise we'll assume their book hasn't been read and it won't be changed. Thanks for all the reading and key word practice you have been doing at home, their reading confidence really is coming on.
We look forward to catching up with you and discussing progress at our parents evenings - this Tuesday with Mrs Lever and next Wednesday with myself. Please sign up if you haven't done so already as we would like the opportunity to see everybody.