YR Making friends with frogs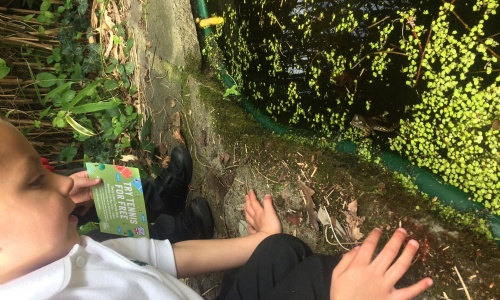 We had lots of fun discovering the school pond yesterday afternoon. The children made friends with the resident frogs. Here's one saying popping up to say hello! A couple of groups also saw a newt and there were plenty of tadpoles swimming about. Some saw (some very small) dragonflies, Kimi is pretty certain he saw red worm and there was a lovely little pond snail. I look forward to going back again soon to see what we will find next.
The week began with the old favourite - The Very Hungry Caterpillar, giving children the chance to recap on the butterfly lifecycle as well as days of the week. We carried on with the Bad Tempered Ladybird, also by Eric Carle, which gave an opportunity for practising making o'clock times. The children wrote some brillant riddles about different minibeasts giving some interesting clues. I was impressed that they not only wrote their own clues but then read them out to the rest of the class so that they could try and guess what each minibeast was.
Also in maths we have been practising counting, counting in 2s, adding, doubling, working out number bonds to 10, ordering and writing numbers to 20, data handling and making patterns - all with minibeasts. The children have enjoyed the ladybird and caterpillar activities on the Topmarks website if you want to try these out at home.
I have also sent home the long vowel speed sounds the children have been introduced to over the last couple of months. Some they have picked up more easily than others but hopefully having these prompt cards at home will help when you are reading or writing together. Or just go through them as flash cards to help get them used to the look of the sounds. Use your judgement as to whether your child is ready for these yet or whether you want to save them for later in the year.
Having heard quite a few children read their reading books this week I can really see the difference between those children practising regularly at home and those who just don't get the chance. We obviously do lots of reading activities in class and encourage the children to sound out words using their phonics knowledge as well as recognise tricky words and make good predictions when reading. But the more opportunities the children get to practise their reading in a quiet, one to one situation the better. A little and often is perfect at this stage even if you can only manage 10 minutes at a time. We are lucky to have enough helpers now that we can get books changed 3 times a week but only if they have been read.
The beans are growing well and most have been planted out in the YR garden along with an array of other vegetables. They have provided opportunities for measuring and for learnning more about plants.
In PE Mrs Lever has been teaching cricket and also started up a cricket club after school for those interested. I remember details came home about other out of school cricket activities before Easter. This week the children brought home a green postcard with details of a free Tennis day at Sway Tennis Club. We have had 3 tennis lessons in school now and the children seem to be enjoying it - although it can be challenging at times! Any opportunties to practise basic ball skills - throwing, catching , bouncing or hitting with a bat or racket would definitely help - whether on their own or with a partner would help build up their coordination and confidence.
Thank you to everyone who has returned their forms for our school trip to Beaulieu CET. If you haven't done so already please ensure they are returned next week so we can make final arrangements for lunches and groupings. If you have offered to help you should hear back from us by the end of the week. Thank you.
We were going to make our minbeast hotel this week but only a few children had brought much in. I have reminded children that we need sticks, 2 litre water bottles, bricks, tiles, fircones, corrugated cardboard and possibly hay. If you have any of these you can bring in by Thursday they would be graatefully appreciated. Maybe you might be able to find some bits and pieces whilst out and about in the Forest over the long weekend.
Enjoy the sunshine.