YR Hotel for Happy Bugs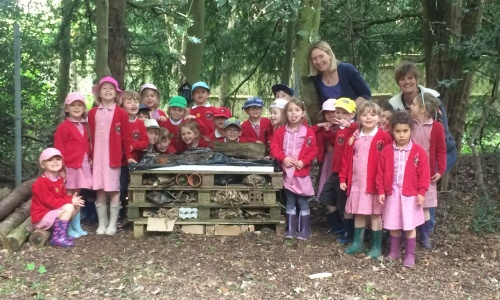 YR built an impressive looking bug hotel on the school field today. Thank you for all the bits you brought in. Sorry that not everyone was here to help us - we have a few children in the school who have come down with chicken pox over the last couple of days. We will be going out again soon to see if any creatures have moved in yet and will be able to add more bits then.
We are also hoping to visit our school pond again soon. Following on from last week's visit, we have been learning about the frog life cycle and are looking forward to seeing how the tadpoles develop.
We are also very excited about our new caterpillars that arrived in the post this week as little tiny caterpillars. The children have fed them and they are already growing and changing. I wonder what they will look like next week? We have been reading books about baby animals, pond dipping and bug huts this week - lots of information which the children have found interesting.
In Maths the children have made lily pad number lines which hopefully we can use to help us with counting on and back when we are solving maths problems. We are continuing to practise skills involving addition and subtraction.
I forgot to mention last week that we had another fun outing to St.Saviour's church for Little Flames. The focus was the story of the Good Samaritan and the children were really attentive through out the puppet show they put on for us. They were asked which part of their body people used most for helping and although I think the answer they were looking for was 'hands', our children responded first with "your heart" and then "your brain". They really are a friendly and thoughtful group of children.