Fairy Gardens - have you any bits we could use?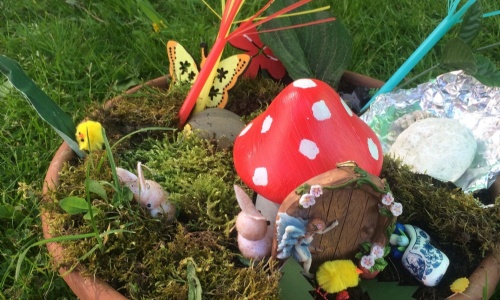 I am hoping to make fairy gardens with YR next Thursday (or following week), either for Robin and Holly our resident fairies or for the children to take home with them. To enable us to do this could you please send in any donations of:
plastic trays (eg from fruit/veg packs)
compost
moss
foil
fir cones
nice stones
fake flowers
unwanted fairy size ornaments
anything else you think of!
Mr Littlewood has also asked that I inform all YR parents that if you wish to drop your child at the school gates in the morning then you are welcome to. Your child can then remain in the main playground until 8:40 when they will come into YR as usual. You can still bring your child to the door if you want to but we do not want any unsupervised children in the YR playground as they will not be supervision there. If you are dropping them off before 8:40 then make it clear to them they have to stay in the main playground. If you are coming in then please ensure you are ready to leave at 8:45 so Mr Harvey can lock the main gate. He also noted that our class clock is 5 mins slower than his own watch so sorting that out may help with the timing issues!