YR parents - Thank you!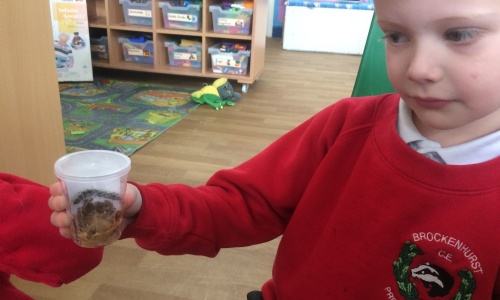 Thank you to all of you who contributed towards our cake sale either by bringing in or buying cakes. We have raised over £200 towards our outdoor learning activities. Amazing! Special thanks to Kerrie Kay, Lucy Ladd and Nicky Crockett for all their time and effort in organising and running the event both yesterday and today.
Thank you also for all your donations towards our Fairy gardens. Lexi's Grandma came to help make a garden for our fairies, Robin and Holly, and it's looking great. Once I get the photos from the ipad I'll pop them on here for you to see if you haven't been shown it already. The children have got started on their own ones and will bring them home next week.
Thank you also to Kimi's Mum, Maret who came in on Tuesday to do Mindfulness with the children. Hopefully you will receive more information about what she did via your email. The children really respond well to her sessions.
Exciting developments with our caterpillars! They have made their way to the top of their pots and are beginning to form their chrysalis. These should harden over the weekend ready for removal into the butterfly nursery next week. We went back to the pond yesterday and saw our friendly frogs again and could see how the tadpoles had grown (as well as the pond weed). The vegetables the children have planted are also growing well thanks to all this sunshine.
Our trip to the farm on Tuesday should give the children to opportunity to see many more baby animals and interesting plants. Don't forget the children will need to wear comfortable trousers, wellington boots (they can use their school ones), and a school jumper or cardigan so they are easily recognisable. They will need to bring a waterproof jacket and a sunhat as the weather could be variable and we recommend that you apply sun-cream on them before coming to school that day. We will be outside for most of the day. Please could they also bring a named bottle of water. Please put all their things in a named backpack that they can take with them for the day. School packed lunches have been ordered for those who have requested one. Everyone else will need to bring their own. We are all looking forward to it.
I hope you have had the chance to look through the speed sounds I sent home earlier this half term. We are really impressed with how well the children are beginning to remember these trickier sounds and are beginning to use them in their reading and writing. In Maths the children used their lilypad number lines that they had made to practice counting on and back with frogs. These should also come home next week and you can have a go at using them to count on and back at home. We have been looking more at numbers up to 20 and practised making the numbers using different apparatus such as bead strings and Numicon. We also used the Numicon, as well as 10 speckled frogs! to work out number bonds to 10 - these are the numbers which you can add together to make 10 eg 8 + 2, 5 +5. I showed the children how they could work out these on their fingers (how many fingers up? How many fingers down?) if you want to practise these at home.
The children may have told you about their unusual but memorable assembly this morning in which Father Francis (our retired vicar from St.Saviours) talked about the story of Saul and how he had to change. As an introduction to the story he managed to change from being dressed as formal vicar to guy dressed for the beach right before their very eyes. Quite a surprise for us all!