We went on a Cake Hunt . . .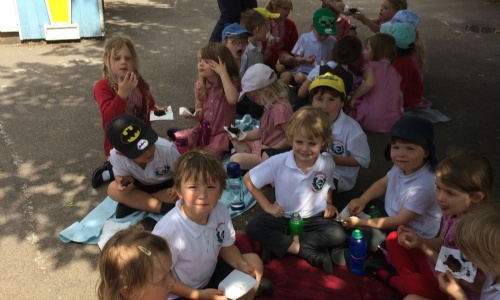 This half term our theme is journeys and we kicked off last week with the old favourite "We're going on a Bear Hunt". This week I asked the children for their ideas of a hunt we could go on together and their ideas were interesting and varied but the idea that got the most votes was a Cake hunt. In groups they came up with exciting scenarios for us to go through on our way and you can read the attached powerpoint to see the story of our very own Cake Hunt.
Thank you to all of you who have organised sponsorship for the NSPCC Buddy event. THe children went out into the grey, damp playground this morning and brightened up the day with their enthusiasm and efforts. They gave it their all with trike racing, hockey dribbling, throwing and catching, target throwing and even skipping with ropes - not a easy thing to do! They were delighted to find golden glitter all around the playground and it was good to know we had the support of our fairies - Robin and Holly. They must have been watching over us. I will add some photos so you can see what they got up yourself. Please return sponsorship forms and money raised as soon as you can.
As Father's Day is coming up hopefully you are aware that all Dads are welcome to come in and join us in class tomorrow morning from 9 til 10 after which there is a special assembly which Dads are welcome to attend. We appreciate that not all Dads are able to come in so if this is the case do not worry, we are there to support all children and they will have plenty to get on with whether Daddy comes in or not. Just drop children off as usual at the gate (they have coped really well with this new routine this week), and then anyone wishing to stay comes round to the office and signs in there.
Check bookbags tomorrow night for a special surprise for Dads and also a letter about a forthcoming trip. I am planning on taking the class to Moors Valley on Thursday 5th July. There is no cost for this trip as the PTA are funding it but I will need to know whether we have enough parent volunteer helpers and what your child will want for lunch that day so please return these forms as soon as you can next week. Thank you