Being caring, being healthy, being hot and having fun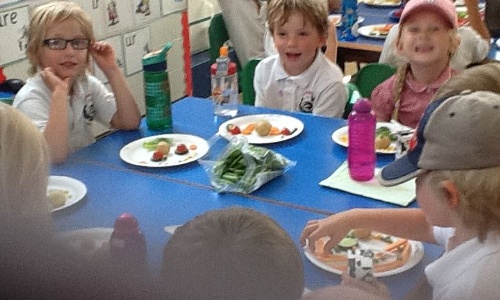 Congratulations to Badger Class who raised the most money for the NSPCC. The lady came in to Assembly on Wednesday giving the children a photo opportunity with their mascot Buddy. Thank you to all those of you who gave sponsorship money.
We would also like to thank all those of you who have helped support us in Badger Class this year, with book changes, library changes, key words, hearing readers, taking Yoga, representing you on the PTA, mending resources, coming in to support with special events and trips. It makes all the difference in a school and we do appreciate all your help. Thank you
Our potatoes were ready for harvesting this week and it inspired me to read Oliver's vegetables with the children. Oliver is a very fussy eater and the children came up with lots of ideas for a healthy lunch for him. They enjoyed the interactive lunchbox activity on this website: http://www.foodafactoflife.org.uk/Activity.aspx?contentId=56&sectionId=61&siteId=14 They also came up with some great ideas for salads of their own, using the potatoes they had grown and turning their paper plate into a funny face that they could then gobble up. Please look in the photo gallery for pictures of the impressive finished products. In maths we were using pea pods to practise skills of estimating, counting, comparing, adding and subtracting - and eating!
We enjoyed the KS2 dress rehearsal of Robin and the Hoodies on Friday and an underwater yoga adventure was just what we needed in the morning at the end of a hot and busy week. It was good to see so many of you at the Summer Fayre. Thank you for the support.
I understand that some parents are still unsure as to what colour Tshirt their child should have for Sports Day on Friday. Mrs Groves had checked that every child had put their individual note in their book bags with their house colour on last Friday and I had been told that the list of houses was coming out with the Newsletter this Friday but as that has been postponed til Monday I will attach a list to this Blog. The houses were allocated to the children when they started in September by the Office and with a couple of tweaks made to ensure children are in the same houses as their brothers or sisters we now expect them to stay in these houses for the rest of their time at Brockenhurst so whichever T-shirt you get you should be able to use again!