We went to Moors Valley, we had lots of adventures. It was a beautiful day and we weren't scared!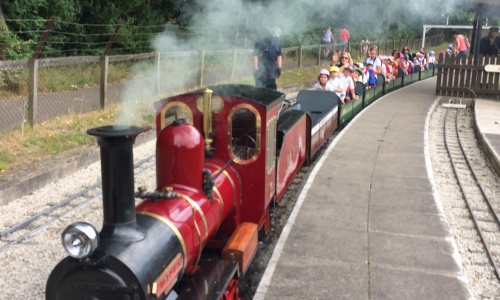 A great time was had by all on our trip to Moors Valley yesterday. We managed to get all the way around the play trail and do the tree top trail before lunch - many adventures to be had along the way. Everyone had a go at all the challenges and kept going despite the distance. They were rewarded with our trip on the train after lunch and a play in the playground. A super day and hopefully one they will remember. Thank you to the PTA for funding this visit and many thanks also to our parent/ grandparent helpers who had to lug our lunches and spare water to their car and back so the children didn't have to and helped with the trickier bits of the climbing equipment. We appreciate the support.
Mrs Groves took a few photos which we hope to put up for you to see if you would like to come in on Friday 13th for our YR open afternoon. This is an informal opportunity for you to look through your child's books with them, chat with us if you would like to, and let them show you their classroom (and, if I check with Y1, possibly a peek at their new classroom too). Come in any time from 2 - 3pm. Reports will also be in book bags that afternoon so please look out for them when your child comes home.
It was really good to see so many of you at Sports Day today - didn't they do well. Despite the heat they gave it their all as ever and showed brilliant teamwork in their trike relay and parachute games. They do enjoy their sports - I'll be passing that on to Miss Ashness their Y1 teacher. They all had a chance to meet Miss Ashness on Tuesday and I believe there will be another Moving up session before the end of the year.
I would like to think all the Badgers will be sleeping well tonight after such an active and warm week. I'm sure all us grown-ups will be too!
Just two reminders: Could all forms for next Thursday's Big walk be returned ASAP. If any more adults are able to help please let us know. Thank you.
Please could all School library books be returned to school on Monday or Tuesday. All children were told about the summer reading challenge taking place at Lymington library over the holiday and we encourage you to take part in it.