YR Hellos, Goodbyes, and Well Done!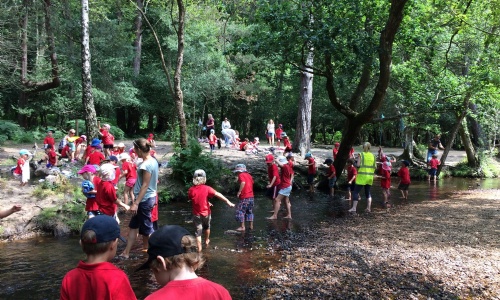 You should have found your child's report in their book bag yesterday (Friday). You shouldn't find any reading books though as we are trying to gather all school books in before the end of term so we can audit our stock. If you have any books from school - library books. reading books, ditty books, please bring them back ASAP so that we can get on and see what we've got and what we need to replace. As we didn't need too many outdoor resources before the end of term and you raised so much money for the cake sale I am thinking of using the money that remains to get some new reading books to replace some of the older, less inspiring books that we have. In this way the money you raised will still benefit your children. I went down to our local library today and the Hampshire libraries' reading challenge has already begun in earnest and they have plenty of early readers as well as all the picture books and information books so please do go if you want books to read over the summer. The children still need to remember their speed sounds and key words for Year 1 so we don't take these from you. I will also be sending out a pack of games and activities to reinforce the alphabet and number work if you want to make use of them over the summer.
The children were fantastic on the Big School Walk on Thursday. Miss Ashness worked out that we had walked 5.25 miles! We went across the common, followed North Weirs all the way around then crossed Rhinefield Road besides the Beechern Wood carpark. We stopped in the shade for a snack and some activities with the National Park team and then took the path straight down to the river. We then went left following the river til we came to the next bridge - a paddling spot for those who wanted it, before heading up to Whitefield Moor car park for toilets and our picnic. It was nice to have parents join us for this. Then it was across Whitefield Moor for a well earned ice pop before pairing up with Y6 children to help us with the final leg back down North Weirs and all the way back to school. Despite the distance everyone kept on going and a good time was had by all. Thank you for making sure your children had all the things they needed and thanks to those who were able to come along and help us.
The children were thrilled to see their friend Jesper yesterday on a visit from Norway and it was lovely to have him back with us in the afternoon. In the morning we had been to St.Saviour's for our final Little Flames service and said goodbye to Kay the church youth worker as well as saying a farewell to the Little Flames service leaders.
Next week Tuesday will be Ms Lever's final day with the class and Wednesday may be Mrs. Groves' last day with them as her son is having an arm operation on the Thursday and she can't be sure when she will be home on the Friday.(She does hope to be back before they go!). On Tuesday the children will have their moving up morning where they will spend an hour with Miss Ashness in their new Year 1 classroom. On Friday it will be our annual Leaver's service at St.Saviour's church in the morning which I believe you are welcome to join us for. And then at hometime the end of a very happy year and Goodbye from me. We will all miss this group of Badgers as they have been a brilliant class; friendly, enthusiastic and keen to learn, and we have appreciated your support as parents too. Thank you!