Yr R - First full week of school!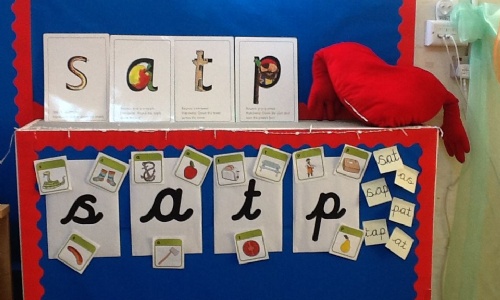 Well done to all our Badgers for coming into class so smartly and sensibly on their own this week! It is lovely to have the whole class together and we are all enjoying getting to know one another, making new friends and exploring our environment.
As well as this, the Badgers have been very eager to learn and try out our sounds of the week, s,a,t,p. We have practised the rhymes that go with each sound and we have played games to help us hear the initial sounds in words. Each week we will keep you updated with the sounds the children are learning and there will be further information on this at the upcoming Phonics Information afternoon after half-term. The link below will take you to a website where you can see the rhymes the children are taught to help them learn and recognise the letter shapes.
http://www.thebellbird.cambs.sch.uk/wp-content/uploads/2014/12/Letter-formation-chart.pdf
We had great fun this morning celebrating our mufti day by playing lots of different sports in our outdoor area.
Next Friday, we will be walking down to church for our Harvest Festival. Please can children bring in a simple non-perishable food donation from home on the day e.g. can, packet of rice. Many thanks.
We would love to see any remaining children bringing in their family photo to join our lovely wall display.
Please check the whiteboard at pick-up time as we will sometimes have written up reminders and messages.
Wishing you all a lovely weekend together,
Miss Lever and Miss Harper
Please take a look at these photos which show a snapshot of our week.....