Yr R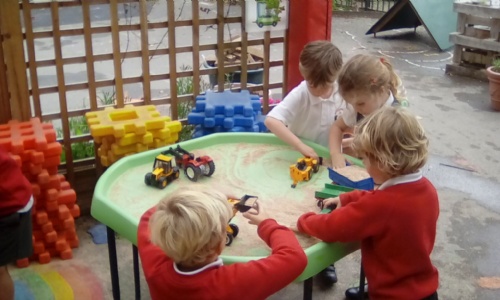 Another amazing week from our Badgers; we have been finding out about the importance of Harvest and giving thanks for the food we eat. Today we walked down to church and took part in the Harvest Festival celebration. We were very proud of the children and their sensible behaviour both walking, and in church. Thank you so much for your generous donations to the food bank and support during the service.
Alongside this, we have listened to the story of 'The Enormous Turnip' and created dance sequences to go with the story. We are also beginning rehearsals for our inter-house dance-off in a couple of weeks' time. Please see the link if you want to have a go at home!
https://www.youtube.com/watch?v=1gUbdNbu6ak
Thank you for all the photographs of your families, we have enjoyed finding out more about each other and we look forward to seeing any remaining photos next week if possible. This is especially helpful for our speaking and listening activities and forms part of the early assessments in this area.
Shortly, you will receive notification of Tapestry details. This is an online learning journal and you will have signed a form in the initial starter pack last term. From half-term onwards, you will find photographs and observations of your child's learning on Tapestry. There is also the option for you to add photographs, activities and observations from home. Please feel free to ask further questions at Parents' Evening – don't forget to book your slot!
Please note on Tuesday 9th October, a photographer from the local newspaper will be visiting to take the annual Year R photographs. Photos of all the Year R schools locally are photographed and a supplement goes out with the local papers. If your photo consent for this differs from the records we hold in school, please see a member of the Reception Class Team.
Our sounds this week have been i, n, m, d. We have been practising the rhymes and letter formation inside and outdoors. We made letter trains and travelled around the playground making our sounds…..take a look at these photos…….spot the fluffy caterpillar we found!
Have a lovely weekend,
Best wishes,
Miss Lever and Miss Harper