Yr R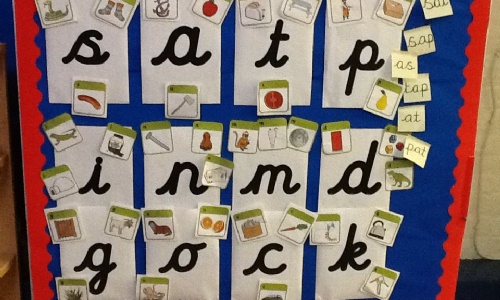 More amazing learning and exploring from the Badgers this week. Our sounds have been g, o, c, k and the children have impressed us with their enthusiasm during games and independent learning. They are now trying to have a go at writing the letter shapes and finding objects that start with letters. We have played some phonic games outside to help us with letter recognition and inside we have been fishing with magnets and magnetic letters to name and match letters we have learnt so far. We like to start our phonic sessions with an alphabet song and the children enjoy listening to the lyrics and joining in, standing up when they see the first letter of their name. Very impressive!! Here is the link to one of our songs….prepare to be dazzled!
https://youtu.be/jPVbJ-IaHIw
We have explored the digits 1-9 and made collections of items, got into groups of different amounts and played games to help us recall the different numbers. Have a go spotting as many different numbers as you can when you are out and about - how many 2s can you see etc.?
We had a wonderful trip to Little Flames at church this morning. Children walked sensibly, enjoyed the singing and story and behaved very well. It was lovely to see parents and siblings at the church too!
We look forward to seeing you all next week at parents evening. Please make your way round to our classroom at your allotted slot. Each appointment is 10 minutes long and we respectfully ask that we keep to these times.
As the weather seems to be becoming more wet and windy, over the next few weeks please can children bring a pair of wellies into school to prevent wet and soggy feet! This means we can still explore the outdoor area and be out and about over the coming months. Thank you.
And finally…..we are collecting boxes for our outdoor building area. If you have any spare medium/small boxes at home (e.g. shoe boxes, or cereal boxes) we would be very grateful for any donations.
With thanks and our very best wishes for a lovely weekend,
Miss Lever and Miss Harper