New Blog Post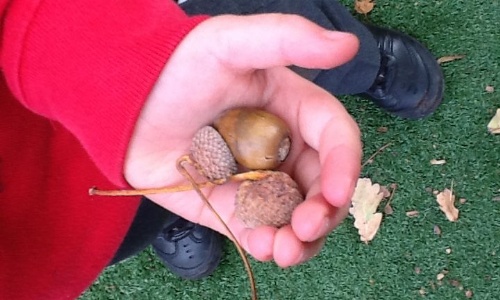 2.11.18
Welcome back after half term, we hope everyone had a good rest. The children have quickly got back into the swing of things and have enjoyed our Autumn inspired week where we have read and discussed the story 'Pumpkin Soup' by Helen Cooper. This has swiftly been followed by the children helping to chop and prepare vegetables and on Wednesday, with the help of Mrs Groves' trusty soup cooker, tasted delicious pumpkin soup and crusty bread. On Thursday we went out and explored the school grounds, taking part in an Autumn Scavenger Hunt.
In phonics this week we have concentrated on h, b, f/ff. Some great letter formation with chalks again and more practise with segmenting and blending CVC words. We are trying very hard to remember the 'lead ins' and 'flicks' for cursive writing.
In maths we have been learning all about the numbers 3 and 4. We have been trying to make collections of objects that link to these numbers. Have a go at home…find 4 soft toys, 3, books, 4 fish-fingers on a plate, 3 toy bricks.
As part of the WW1 centenary Remembrance this year, YR will be decorating some large pebbles to take down to the war memorial later in the week. It would be really helpful if you could find a large pebble to bring in to school on Monday please as we will be decorating them in the afternoon. If anyone is DBS checked and would like to help out with this, could you please let one of the YR team know. We also need 3 helpers who hold a DBS certificate to accompany us on a 'Remembrance Walk' around the village to commemorate Poppy Day on Thursday 8th November at 9.10 am. Again, please see a member of staff if you are able to help.
Polite request: We sometimes set out activities in the Reception playground including in the 'Number Nook' shed. Please can you discourage your child from playing with these before/after school at pick-up/drop off times, as we then have to reset these at lesson times. Thank you so much for your support with this.
Have a lovely weekend and take a look at these pictures from our week…….
Best wishes,
Miss Lever and Miss Harper.