Year R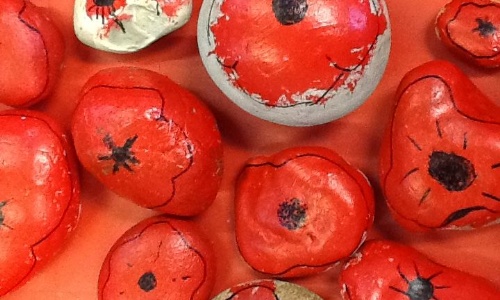 It has been another busy week in Badgers. On Tuesday we painted special stones with poppies to take with us on our remembrance walk around the village. The children worked very thoughtfully creating their designs. Do look carefully when you are next out walking in Brockenhurst, to see if you can spot any of our lovely stones! Thanks to all those who brought pebbles into class and to the lovely mums who walked with us and helped keep us all safe and organised!
In phonics we have focused on letter sounds: j, ss, ll and v. Alongside this, we are now thinking about the cursive formation of letters and we focused on the 'curly caterpillar' shapes, c,a,o,d,g,f. There were some great letters decorating the playground!
We had a very kind staff donation of new dolls and we have had great fun caring for our babies during play sessions.
As some of you may know, the children started to use the main playground at playtimes this week for morning and afternoon play. They have adapted to this really well and many have enjoyed meeting up with siblings and friends. We have Y6 play leaders who wear a yellow bib to help keep a watchful and caring eye at playtimes. As of next week, Badgers will be joining the main playground after lunch too.
Next Friday is 'Children in Need' day where children are invited to wear mufti (including something spotty if possible) in exchange for a donation to this very worthy cause.
Please can we remind you to log on to your child's learning journal via the website Tapestry. We upload pictures and notes about your child's learning throughout the year. Your contributions and comments are so valued and very helpful, so please do feel free to comment or like entries. You can also upload any activities you do together at home that you would like to share with the team. This might include a special trip, success in riding a bike, tying a shoe lace or achieving a swimming badge.
We are now beginning to think about our Nativity Play which we will be performing alongside our friends in years 1 and 2. Further details will follow regarding parts and costumes and we have sent home a booklet of song words for children to practise.
We look forward to seeing as many of you as possible on Monday in the hall at 3.30pm, for our phonics/maths workshop. If you are unable to attend, then a copy of the PowerPoint will be made available on the blog.
Best wishes for a lovely weekend,
Miss Harper and Miss Lever