Y1  - Pigs come and purchase your perfect properties here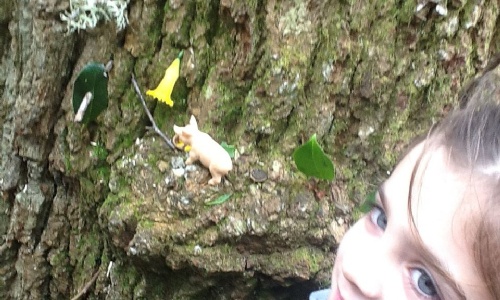 Y1 sharks had great fun creating houses for little pigs this afternoon. They worked really well in their groups deciding which materials to use and the best location and many came up with designs to keep out those menacing wolves. Then came the interior designers - check out the lanterns on this mezzanine level where the piggy is enjoying a tasty treat from an acorn cup bowl. Such attention to detail. They have really enjoyed retelling the story together and have made a start writing the story for themselves. Next week they will be coming up with alternative endings of their own. At the end of March they will have another chance to play architect with nature when an outreach worker from the RSPB visits us to help them create homes for animals who live in our school grounds. I hope they passed on my apologies. I didn't realise they would get quite as muddy as they did.
We have continued to learn more about how life has changed in the last century by reading books, watching Magic Grandad and best of all interviewing a real person! Lucy's Grandma kindly came in on Thursday and expertly fielded all sorts of questions about when she was a child growing up in the 1950s.
We were also very lucky to have some musical visitors today - the children were treated to a concert given by two musicians who played trombone, saxophone, trumpet, clarinet and flute. Hopefully an inspiration to them. Although when it comes to singing and dancing they seem quite inspired already - we have all sorts of performances in our Friday show and tell spot - culminating this afternoon with a rendition of True Colours by Cruz, which was beautiful. I am always impressed by the fact that both boys and girls are confident to come up and have a go at singing out loud and putting together their own dance routines, very entertaining. I'm sure we are going to be spotting these children in the Britain's got Talent style shows of the future!
Not surprisingly the sharks have completed their matble jar yet again. They have come up with plenty of suggestions for their marble jar treat which I have left for Mrs Townsend to peruse on Monday. Once she has decided which idea we are going with she will let you and the children know.
I hope everyone is all set for Thursday's trip. I am on a History course on Wednesday so next time I see the children we will be all dressed up in our olden day clothes, complete with wellies and raincoats ready for a great day out.