Year 1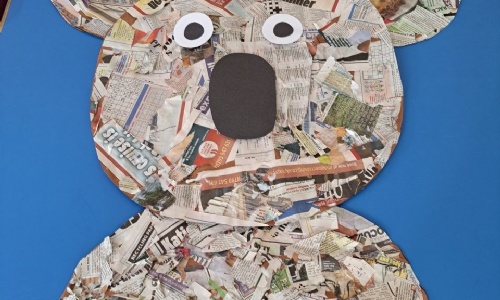 We have had another busy but fun week! We started the week looking at healthy eating, we discussed different food groups and designed a healthy plate of food. We also talked about how to look after ourselves and to keep us fit and healthy.
In English we have sequence the story of Oliver's Vegetables and retold the story in our own words, focussing on the days of the week. We have been working on the suffix 'est' writing sentences to describe the vegetables using it. We finished the week by writing a recipe for vegetable soup.
In Maths we have been working on positional language, the children had great fun making maps and using the language of left, right, up and down. We tested them out on our friends to see if they could follow the instructions.
In Art we made a class newspaper koala to go in the church at the weekend, the children had so much fun doing this. The children then made their own newspaper picture.
We had two treats this week, the first one was a wonderful sports day, the children had so much fun and all did so well. It was lovely to see them all having fun with their friends. I was proud of all of them, well done Year 1. We were lucky enough to watch the KS2 production, we really enjoyed it. The children have worked so hard on a wonderful performance.
I hope that you all have a wonderful weekend, I can't believe we only have 2 weeks left!!