Y1 Sharks, crocs, birds and other animals that hatch out of eggs . . .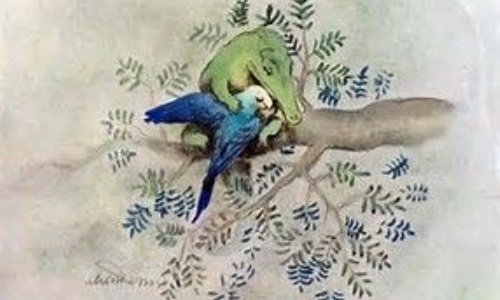 Y1 have been investigating all sorts of creatures which hatch out of eggs thanks to our Class book "Croc and Bird" by Alexis Deacon, author of Beegu. It tells the story of two eggs hatching side by side on a beach and the friendship forged between the two creatures that hatch from them - a crocodile and a parrot. The children have really responded well to the story through role-play and writing and had a go at painting with water colours as Alexis Deacon does. If you want to visit the Power of Pictures website: https://www.clpe.org.uk/powerofpictures/books-and-teaching-sequences-0/croc-and-bird, scroll down to the bottom and you can watch the video of the Author reading the book. We have also watched to see how he does his illustrations. Today the children picked two creatures that they knew hatched out of eggs and drew and painted these withh watercolours. Next week Mrs Townsend and I will be helping them to plan and write their own stories about these characters.
There were lots of eggs involved in our Maths this week too. The childrn have been paying for Easter treats using different coins, reinfocring their counting in 2s, 5s and 10s. They have looked at arrays eg. the way eggs are laid out in egg boxes and used arrays to help with multiplication too. Today we practised sharing or dividing different amounts of Easter eggs (sadly not real) between us and recorded what we had done using the division sign. Hopefully they will be good at sharing their real eggs when the Easter bunny visits in a couple of weeks time! Next week one of our activities will be helping to give the Easter bunny directions and it would help if your child was confdent with which way is left and which is right. The left handed children tend to know and for the other children you can remind them they write with their right. Perhaps they could try giving directions to you or following directions you give to them including left, right, forwards, backwards, half turns and quarter turns.
In Science the Sharks have been looking at lifecycles and sorting animals according to their similarities and differences. We found out some interesting things about birds, insects and other animals when the RSPB lady visited yesterday and helped us to look for animal homes around our school grounds.
It was great to see everybody at Parents evenings this week and discuss how your child/children are getting on. Thank you for all your continued support with learning at home.