Y1 Sharks create some eggs-cellent shared stories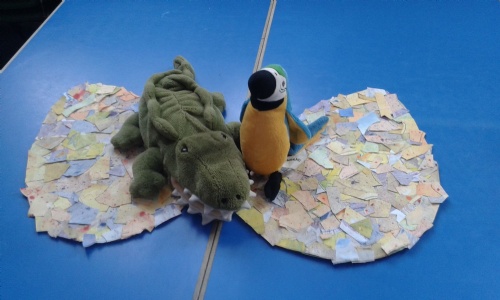 Eggs-citing happenings in Year 1 this week . . .
Following on from our tale of Croc and Bird the children have written their own tales of animals hatching from eggs as anticipated. These should have come home with your child today. But just as the animals who hatched shared a bond of friendship the children worked together to write these stories in twos and threes. They showed great teamwork and really supported each other in sharing ideas, telling their stories out loud and then taking it in turns to write sentences. With a partner to help them decide what to write and check how to spell it all of the class were able to get on and they have produced some great stories of friendship - though not all with a happy ending!
Y1 sharks were sorry not to sing to you today in the Easter Service. We had been learning our "spring chicken" song in readiness but found out this week that the format of the Easter service had changed and class performances weren't needed. I had hoped to video them singing to you but by the time they had sorted out their trays and their lockers and had got all their bags balanced and hands out ready to receive their chocolate nests I couldn't quite bring myself to get them to put everything down and perform one more time but I'm sure they will give you an enthusiastic rendition at home if you ask!
Thanks to our wonderful parent helpers the Sharks have had some really useful and fun experiences this week. Thank you to Henry's Mum for her information on handwashing. It takes a little bit longer to get ready for lunch now but at least they seem to have taken on board the advice! Lucy's Mum was great at getting through all the children in one afternoon to give them a chance to do make their chocolate nests and they had a real treat this afternoon with Cadi's Mum when she took them pond dipping in the school pond. This followed on from Oscar spotting a frog trying to come into our school hall this morning as we were going out. Mrs Revell to the rescue. Thank you to all of you who have been in to help this term. We really appreciate your support and you giving up your time and it really does make a difference. Thank you.
We hope you have a lovely Easter and enjoy the holidays. We look forward to hearing all about them when they return.
Happy Easter from the Year 1 team